With this trampoline ExacMe provides good value and quality at an excellent price. Even slightly more expensive than 15 ft Skywalker, ExacMe trampoline is an Amazon "All-Star Trampoline". Hundreds of happy customers have been using it for several years now, and exhilaration is still the same.
Weight limit: 375 lbs (170kg)
Recommended Age: 6+
---
About ExacMe 15 ft trampoline:
This isn't a super quality industrial trampoline that can handle an entire bunch of screaming kids… but with a maximum weight capacity of 375 lbs, it can still handle more than a few of them. At 15' in diameter, it will give everyone enough place to jump, not just your kids. If a child is on it by himself, then 15' is enough to provide enough space for playing or exercise… While its design is nothing to be excited about, it does the job.
If you are on a budget is not a bad thing with trampoline as the cost and maintenance price isn't very high – it comes with a very reasonable price.
Families are encouraged to buy this trampoline. And if you don't trust us, trust the reviewers who gave it 5-star ratings on Amazon, and where most of them were families.
This 15 ft trampoline, with a diameter of 159″ (4 meters) and 108 springs for 375 lbs maximum weight capacity, is very easy to assemble and requires no tools or extra drilling. ExacMe trampoline can be assembled by two people within 2 hours, but you will need a bit more, as you'll see below. All materials found on this trampoline are made with durable UV protected materials for increased weather resistance and will provide you with years of problem-free jumping experience, and regarding safety, it meets all "ASTM", "TUV", "GS", "EN71" and "CE" quality requirements.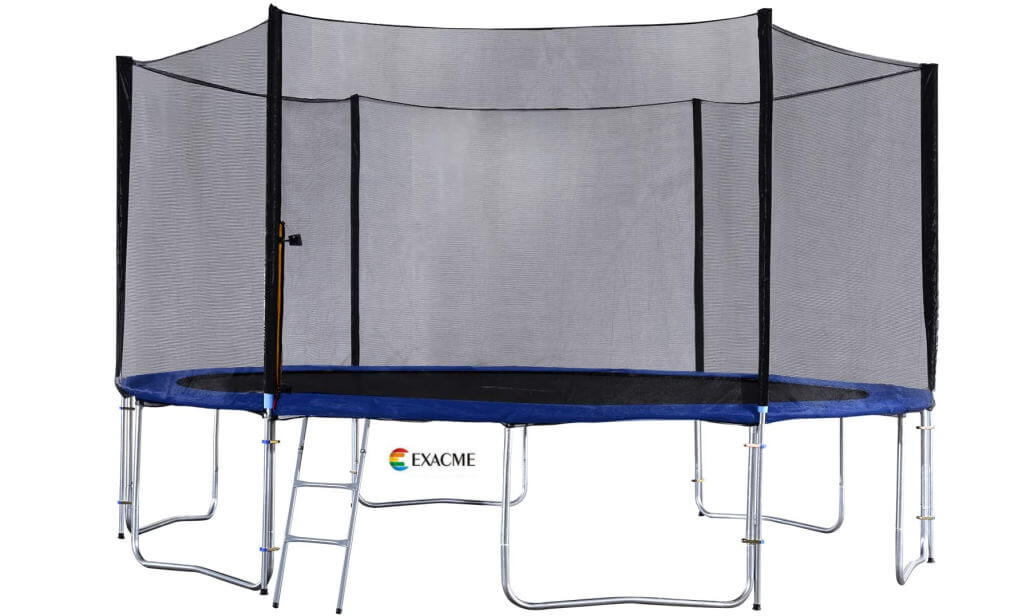 Complete package includes 15 ft trampoline, enclosure, poles, ladder, clamps, pole pads with tools and hardware used for assembly. Overall, pretty nice packaging where everything you might need is included inside.
Specifications:

Rust Resistant Galvanized Steel Frame – Hot deep galvanized Frame
6 U-Shape legs – total of 12 balanced contact points which add stability and prevent wobbling or tipping, also add more weight capability  – 375 pounds (170 kg)
Polypropylene Jumping material;
Total Diameter: 159 inch / 4 meters;
12 pieces of leg extension tubes –  also hot deep galvanized for extra durability;
108 pieces of 7″ Galvanized Springs – Galvanized Springs provide a deeper, more exciting bounce;
PE PVC pad cover in blue color;
Enclosure – PE mesh netting;
Protective foam for the poles;
Maximum Weight Capacity: 375 lbs (170kg) – this ExacMe trampoline is in Top 10 regarding weight limits!
---
ExacMe 15ft trampoline comes with great price, so it really gives you value for money.
Frame:
ExacMe 15ft trampoline is made with thick and strong, rust-resistant galvanized steel tubing, which is safer than conventional frame welded trampolines. We guarantee that this frame will be firm and rust-free in any weather conditions. While some may not like it, the frame comes covered with a protective layer of grease which you may have to clean first. Trust me, if the manufacturer ships it with frame protected, it has to be good!
Mat:
Traditionally made from PolyPropylene (PP), which is industry standard for this type of trampoline. There are 8 rows of mat stitching that hold the V-rings, with 6-times woven mat. Mat has a nice Exacme logo, which marks the center – old models had X marking the center, this one looks much better.
Springs:
108 pieces of 7″ springs should provide nice & powerful bounce. Springs were also galvanized and it assures me that will stay rust-free for a long period of time. Great thing is that springs are good and size is within industry standard, so buying replacement springs shouldn't be a problem.
Padding:
0.6-inch thick EPE Closed-Cell Foam inside blue PVC padding should suffice for everyday activities without risk of injury. Springs are completely covered up by a blue safety pad.
Enclosure:
It encloses the entire way around the trampoline, including the springs. The net enclosure is attached to the poles by straps and ropes and then also hooked underneath for additional support. Zipper enclosure allows easy in-and-out. The full height of assembled trampoline is 3.1ft while the full height with enclosure net is 9ft.
A very pleasant surprise comes with the addition of a ladder that ships with the trampoline. It's great for children who might otherwise struggle to get on and off the trampoline. Combined with the bounce height that is average, it makes for a good beginner's trampoline. The manufacturer assures us that the trampoline has been certified by all relevant safety agencies, but just by looking at it, we saw that it's a fine trampoline for the average user.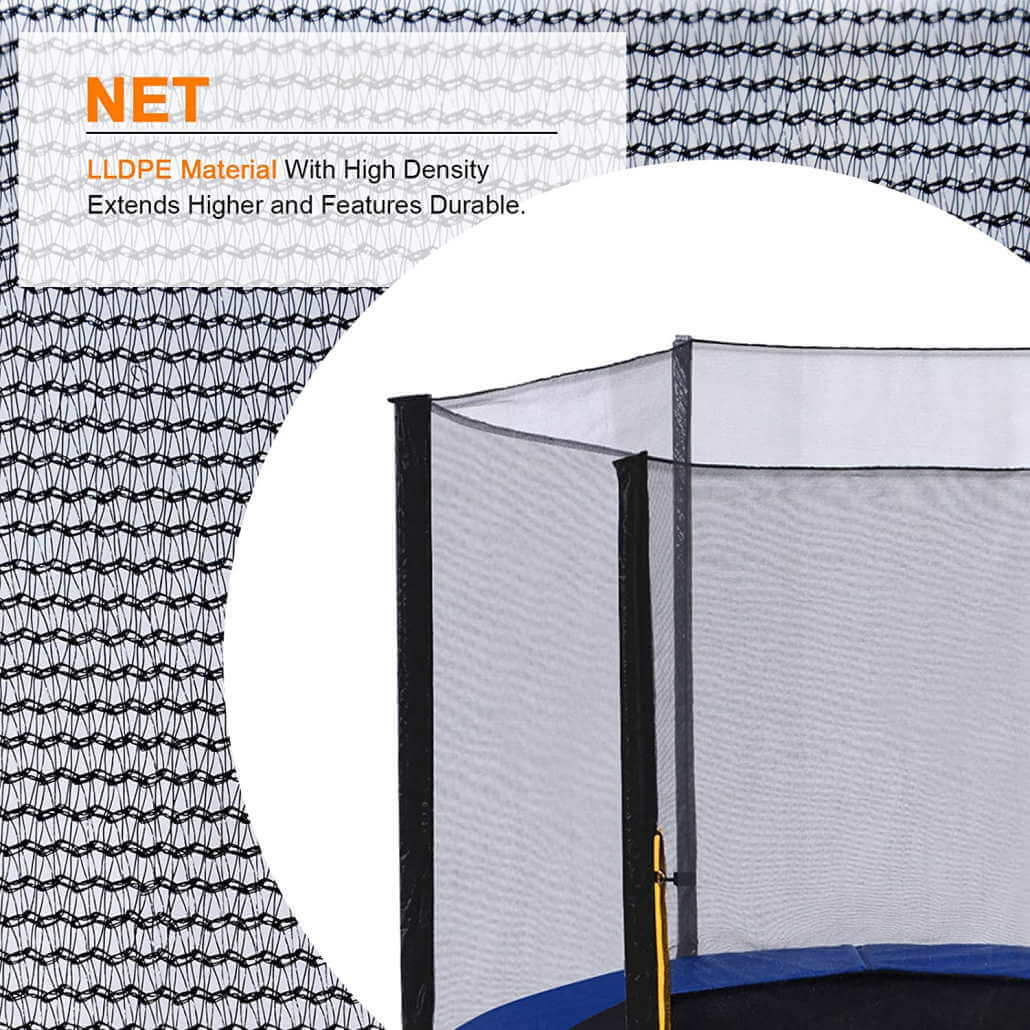 Assembly & Warranty
The ExacMe website features a large selection of spare parts at keen prices to buy after your warranty expires. It's rather short at only 90 days and the company has a record of spotty customer support. Note that they might charge a 20% restocking fee should you choose to return it back (unless it's due to a manufacturing defect, of course).
Exacme 15ft comes packaged in three bulky boxes (total weight of 180 lbs), but the assembly process isn't too complicated. Due to the sheer size of the trampoline, we recommend that two people be present to put this together easier. A wrench is included in the box for easier installation.
It's nice that the installation is intuitive, as the instruction booklet leaves a lot to be desired. Writing is hard to decipher and the pictures are next to useless. For assembly, you should reserve at least 2 hrs of your time.
 ExacMe 15ft Trampoline Assembly manual available for download – here.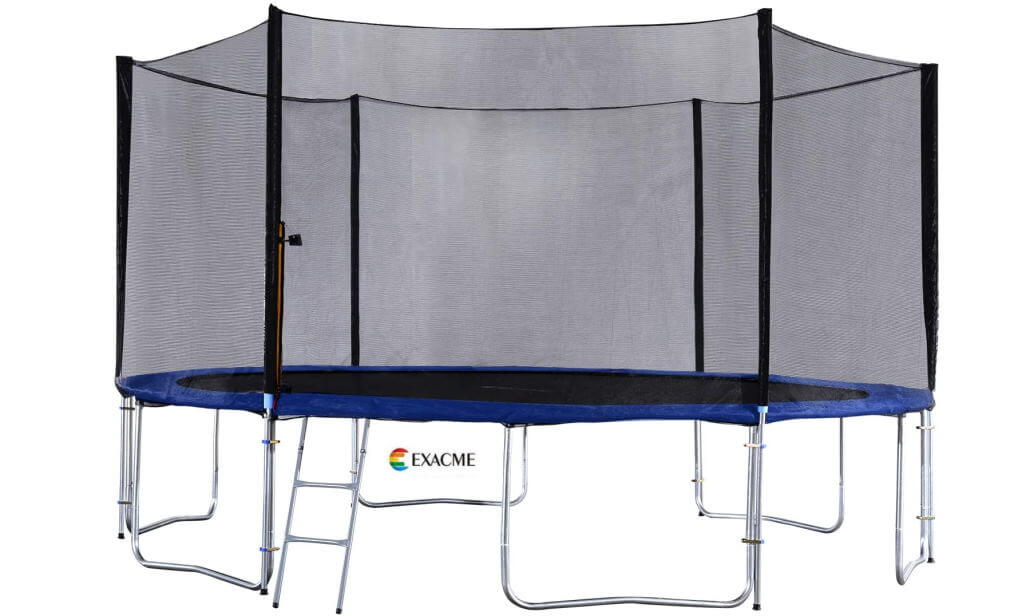 ExacMe 15 ft Trampoline – T Series Combo Set
This is a great trampoline. Nice quality, easy to put together and sturdy. If you slightly better product in terms of weight limit and enclosure quality, go with
15 ft "Exacme Fiber pole
", and if that's an overkill, go with ExacMe 15ft Combo trampoline set. It's one of the best selling trampolines on the market, with huge number of positive reviews.
PROS
Reasonable price
Spring count and length
CONS
Pole PVC sleeve is too thin
Low quality net zipper
Other Reviews of Best-buy Trampolines
You might be interested: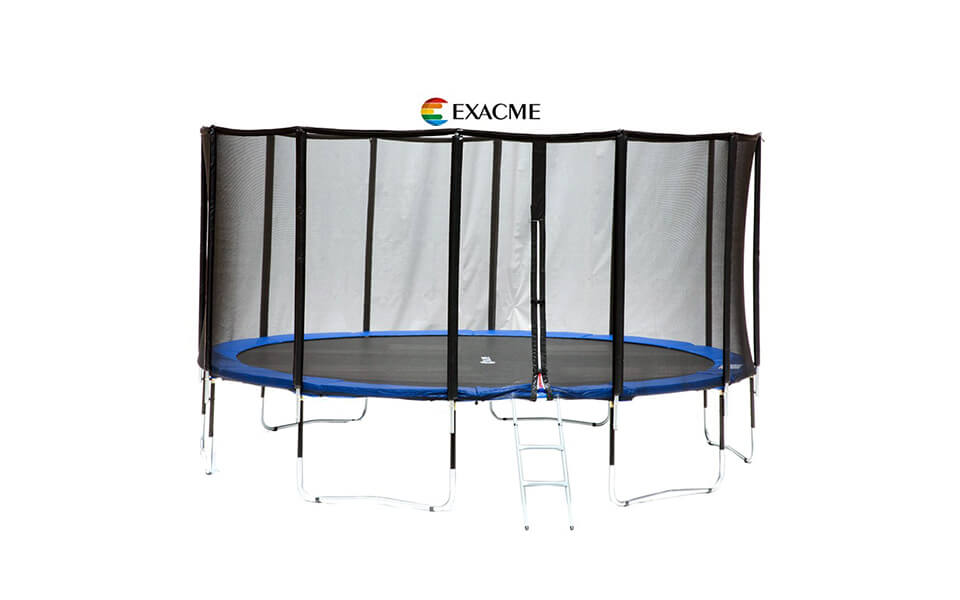 A luxury trampoline for a fraction of the price? Is such a thing possible? Well, we'd always err on the side of caution, but as we say, every trampoline deserves a fighting change. Let's see how the Exacme unit performed. Read more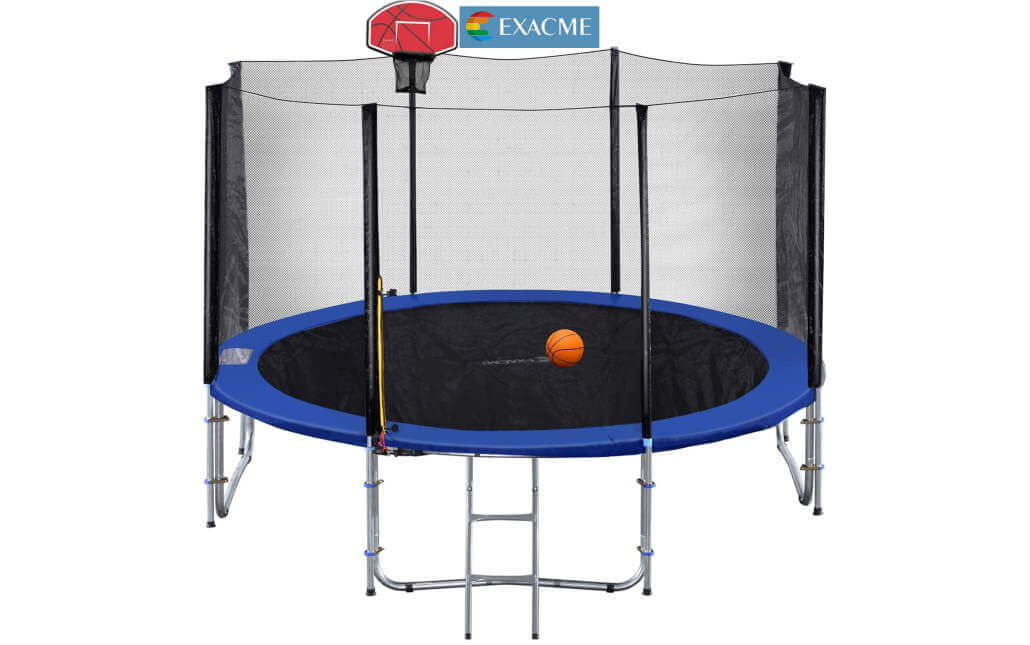 ExacMe, a fairly unknown but well-experienced trampoline manufacturer has come out with their take on a budget trampoline – a no-frills experience, but with a lot on offer – an enclosure, six legs, and a ladder. But how does it compete against other 14ft trampolines? Read ExacMe 14ft trampoline review here…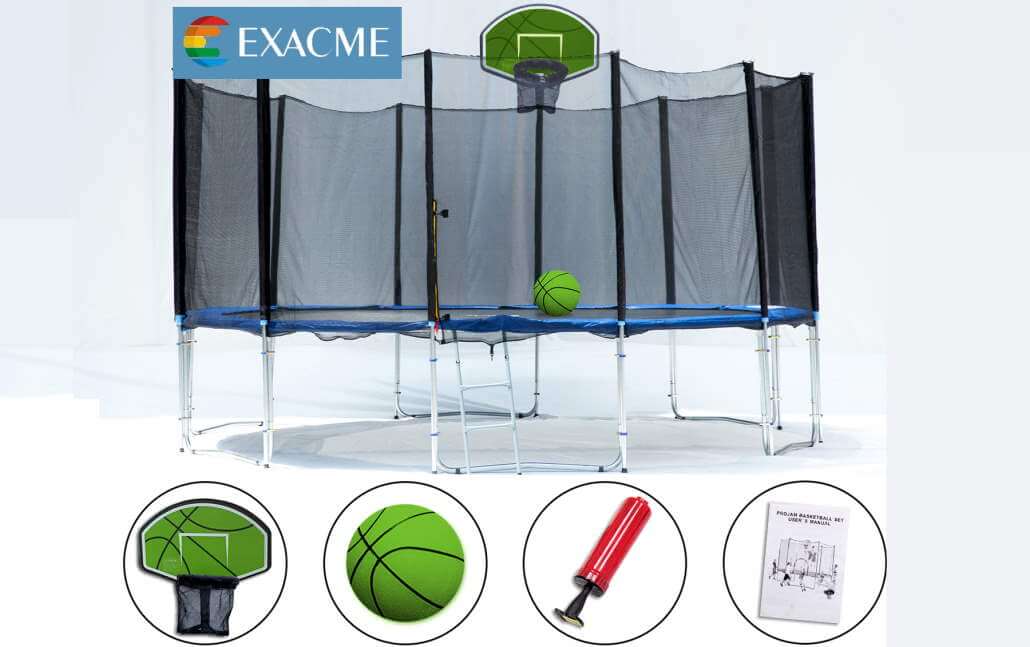 ExacMe 16 ft trampoline – in case 15ft is not enough, for just several bucks more you can get an even bigger and improved version of the ExacMe T-Series trampoline, this time with included basketball hoop. Is it worth it? Well, read our review of the 16ft ExacMe trampoline and decide for yourself!