Jumpsport is a well-known name among the trampoline connoisseurs (the precious few of them). They generally make good trampolines that are excellent for any rebounding workouts. The model 350 is one of their top-of-the-line models, and it isn't cheap at all, so we simply had to investigate whether it's worth shelling out your hard-earned cash for.
Weight limit: 275 lbs (125 kg)
Recommended for: All into serious home based training sessions!

---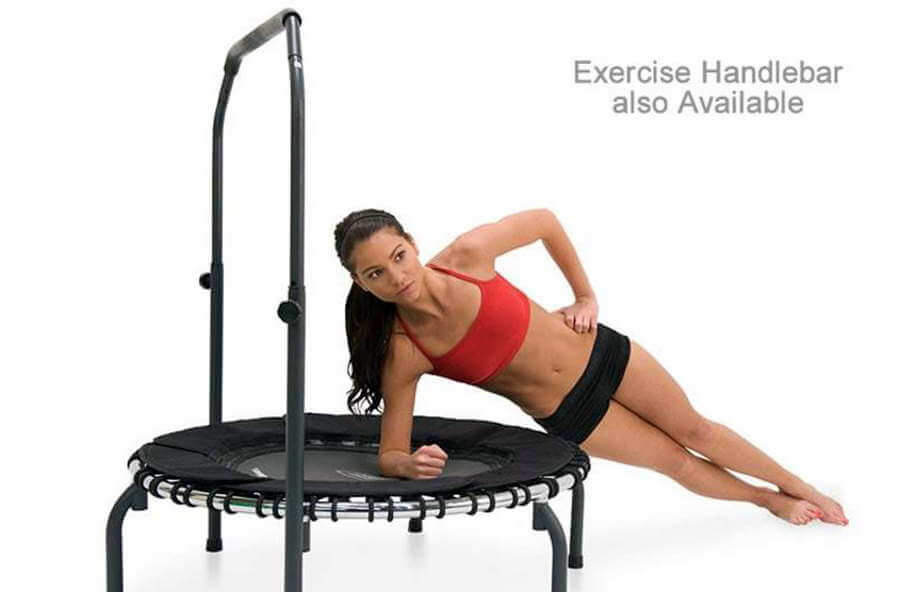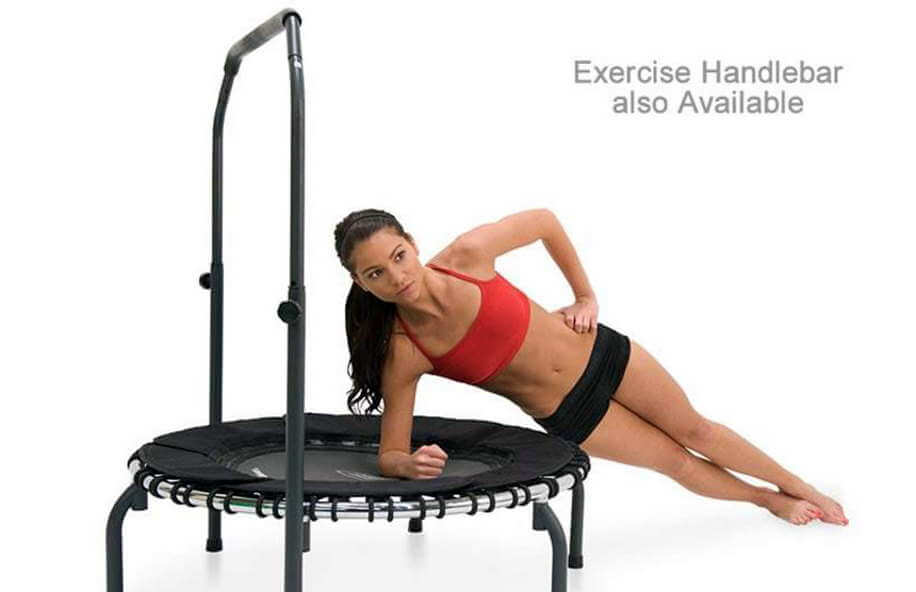 Check Model 350 price on Amazon
JumpSport model 350 Mini Trampoline Review
Design
There's not much to say when it comes to the design of rebounders. They are all either black or greyish, very understated. This one is no different. It sports black legs and a mat, with a touch of silver steel elements. The legs are arched to improve stability. Overall, looks okay.
Frame
It's very important that mini trampolines do not wobble or move around when you're bouncing on them. This requires sturdy materials and a well-made structure. The JumpSport Model 350 meets these requirements. The frame is 39" wide in diameter, with 32.5" of usable bouncing surface (the rest is taken up by the springs).
The tubing is made of 16 gauge steel, with quality coating. The arched legs make it difficult to transport and store mini trampoline, but it is very stable as a result.  The legs are, of course, removable and they're easy to set up. This rebounder does not fold, but we figure it is safer this way. It's hefty to transport, weighing 21 lbs. That's not much for people to carry, but a lot compared to other rebounders.
Bounce
The bounce is very soft, smooth, and cushioned, allowing you to exercise for much longer periods of time. This is because this trampoline uses a high number of 30 elastic cords called EnduroLast3, which are tested to millions of bounces without any problems. This means they can last from 9 months to 4 years. It all depends on your usage patterns. The elastic cords are also adjustable and offer various tension settings. They looked secure and we were confident they wouldn't snap.
Mat & Springs

Jumping mat is made from material called Permatron, which is the material of choice for all high-end mini trampolines. Permatron fabric is thick enough, and it doesn't stretch, meaning you can be sure that workout will be safe even you are approaching the weight limit. There are no worries about being thrown off balance during intense workout sessions.
The Jumpsport 350 features an upgraded spring model compared to its budget counterparts in the Jumpsport rebounder line, the 250, 220, and 200. This mini trampoline does not use metallic coiled springs. Instead, it uses elastic cords that provide a bounce. The proprietary cords that Jumpsports uses are called "EnduroLast" and come in a few flavors. The basic "EnduroLast 2" are featured on cheaper models, while JumpSport 350 sports the "EnduroLast 3″. The professional high-end Jumpsport models, like 570 PRO, comes with "EnduroLast 4″ springs.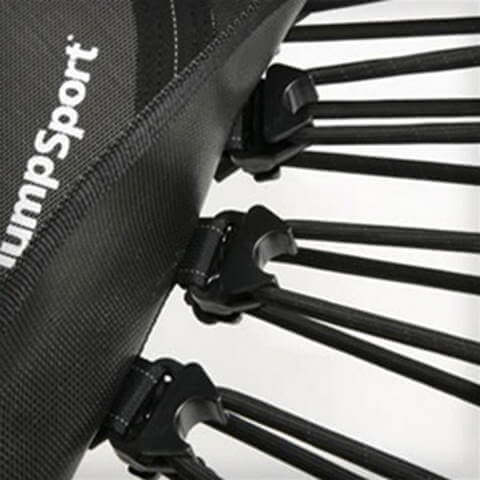 The main difference between these springs, besides better quality control, is the ability to adjust the tension of the springs to three levels. This will come in handy if people with different body weights will jump on the trampoline. It is also good for adjusting to various exercises that might work better with different tension settings.
There are 30 springs in total, each 8 cm in length. The bounce is smooth and cushioned, and you can adjust it yourself. More expensive models feature seven tension levels, but three is also okay. The trampoline is almost completely silent. You can use it anywhere, anytime… literally.
The rebounder has a 275 lbs weight limit, enough for most people.
When those two are combined you get very good results – a trampoline that is super strong and of high quality. With 275 lbs weight capacity, Model 350 can be used even by heavier jumpers. So, if you are into losing some weight, JumpSport model 350 is a rebounder for you!
Assembly & Warranty
The trampoline requires minimal assembly. All the tools are included, and you get them in the box pre-assembled. You can get it ready to go in less than 15 minutes, so kudos to Jumpsport for that.
The warranty is excellent overall. You get a lifetime warranty on the frame and legs, 5 years on the mat, 3 years on the elastic cords, and a year on other parts. Their customer support is always ready to help and contacting them is never a hassle. More importantly, they will replace broken parts free of charge, such as snapped cords (it happens sometimes).
The assembly of Jumpsport 350 is not that difficult. It will take you a couple of minutes to get it assembled and try it out, but you can do it on your own. Assembly consists of attaching leg pieces to the sockets on the trampoline frame and simply securing them with a 6mm Allen wrench. If you order extra accessories, such as the handlebar, it complicates installation a bit, but nothing too much. The manual is clear and understandable, and in case you get stuck, there are instructional videos available online at their website. Accessory handles are installed with thumb screws if required.
When assembled it is 41 inches wide, so please ensure you have enough room to install and place it. Those two extra inches come from arched legs, which are wider than the trampoline itself.
Other specifications:
Total trampoline weight: 21 lbs (9.5 kg)
Silver quality 3-coat finish on frame
Usable jumping surface diameter: 32.5 in (2 ft. 9 1/2 in or 2.7 foot)
Model 350 mini trampoline comes with a 4-in-1 workout DVD to help you start practicing
Height: 12 inches
3 tension settings
Skirt mat design
Included manual with installation instructions
Non-folding frame
JumpSport model 350 vs 250?
The main difference between this model and its cheaper brother, the JumpSport model 250, is that the 250 doesn't have adjustable tension settings and its springs are made of Endurolast 2, as compared with this model's Endurolast 3.  The model 350 is also a bit lighter and its mat is made of Permatron. We think that the springs on this model should last you a bit longer.

Both of the models are really good and quality-made. Even though we think the 350 is a bit better model overall, if you're certain you won't be needing the adjustable springs and are strapped for money, then you can safely opt for the 250 model. Overall, we feel that the price is well justified considering the features it is equipped with. It reminded us of more expensive and higher-grade mini trampolines costing up to three times as much.
Video review of JumpSport 350 Mini Trampoline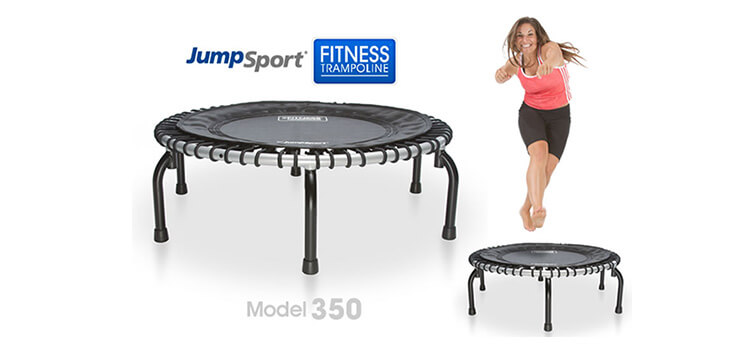 JumpSport 350 Fitness Trampoline
We really liked this rebounder. It performs well under all stresses and exercise types. It's nearly silent and It's well made. It's definitely going to last thanks to quality materials used and great bungee cords. The only thing that is disappointing is its lack of any additional accessories. They are available – the handle bar, the extra exercise DVDs, the trampoline cover, the PyloFit Adapter – but they costs extra. At least the cover could have been included. You do get a complimentary exercise DVD with four programs. It's basic, but it works. This is the only negative thing we have to say about the trampoline, which speaks volumes about its quality. Yes, it's not the cheapest one, but it's a worthwhile investment.
PROS
Top-notch quality
Excellent bounce
Sturdy
Very quiet