A few years back no one had even heard of ACON, a trampoline manufacturer from Finland, but today it's completely a different story. ACON became recognized globally, all due to the fact their trampolines are most often placed on top when it comes to ratings. Their first models had some issues with the longevity of parts, but this ended with the year 2022 and their newest product – ACON Air 16 rectangular trampoline. Finnish "know-how", plus years of experience in manufacturing trampolines finally paid off, and as you'll read from this review, it continues to be on top of all charts, mostly due to fixes (and several novelties) they have introduced with ACON Air 16 HD 2022 model.

Recommended for: Age 8+,
Weight limit: 1750 lbs (800kg) structural limit
---
Table of Contents
---
Review of ACON Rectangular Trampoline – ACON AIR 16 Sport HD, model 2022
In this review, we will touch base with all parts, from actual packaging to the quality of parts all the way to the safety it offers. As this will be a long post, make sure to read it whole, maybe it will manage to convince you of the actual value this trampoline provides. And if you already own it, then you're here for an explanation of how to assemble it, so please read our page with the assembly gallery, as it will definitely help you during the process.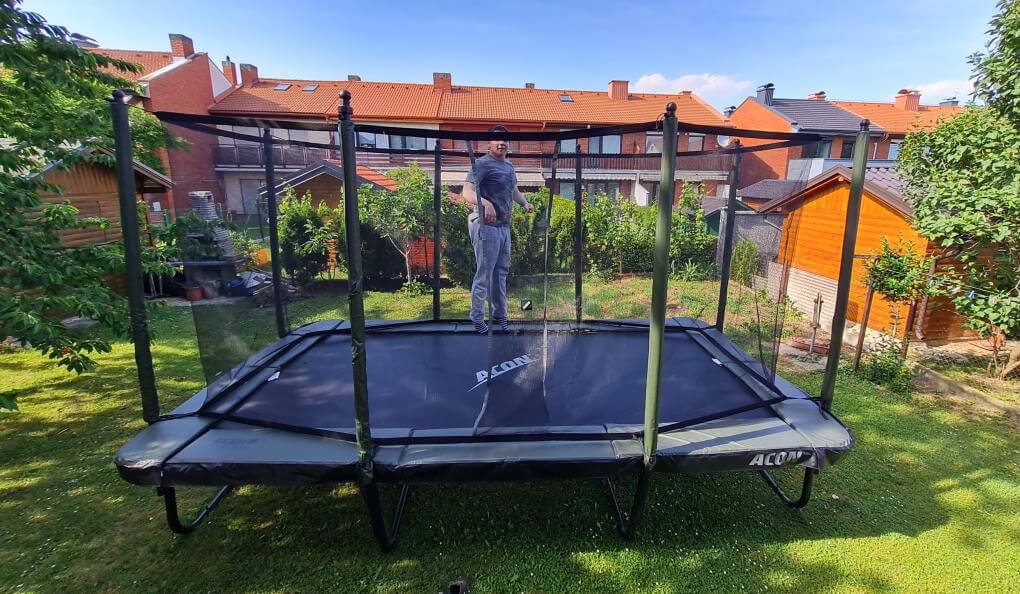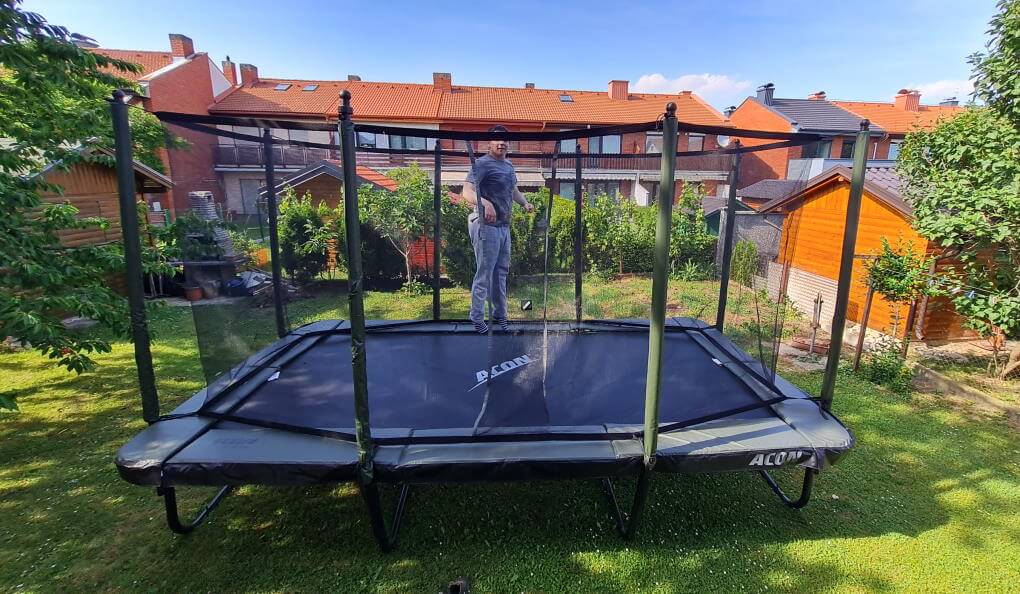 Who is it for?
As this is a quite big rectangular trampoline, something that in the past was only reserved for professionals and gymnasts, today, just normal, everyday folks can enjoy it. It can be enjoyed by all members of the family, but its main purpose is to support training sessions of advanced users – semi-pro gymnasts, cheerleaders, or regular people who want out-of-this-world training sessions. The main thing to address here is that it isn't suitable for lightweight jumpers, and by that, we mean children under the age of 8. Not that younger kids can't jump, but springs won't provide enough feedback to truly showcase maximum possibilities – Explanation here!
Rectangular trampolines combine the great bounce of square trampolines with the usability of oval trampolines. They provide among the best bounces of all types of trampolines. As such, we would recommend them to more experienced jumpers.
Design
Design is perhaps the weakest point of the trampoline, so it's best to get this out of the way. The trampoline looks very subdued with its olive green color and black mat. While certainly not inconspicuous due to its sheer size, we feel it should have been designed in a bit more exciting way. Some might like the no-nonsense style though as it's definitely a nice change of color, as most trampolines come in a generic blue color. With this trampoline, it's definitely "function over form" all the way – the Finnish way, as we like to joke. To be honest, they did offer ACON Air 16 Sports HD in black, and it looked way cooler than the current one, but let's face it, beauty is in the eye of the beholder! Nevertheless, they do hold several design patents. That being said, some of you will like it, some won't, but as with all trampolines, looks will not play a crucial role in the actual performance.
Sturdiness
The moment you will realize how sturdy Acon 16 really is, is the moment when you'll try to move all the received packages. Weighing 515 lb (234kg), you will soon realize how trampoline weight correlates to its sturdiness. One thing to note here is that you need to place it on a flat surface, as otherwise, you'll get a swing set and not a trampoline. The moment you start jumping you'll notice the trampoline stays firmly on the ground, without any movement at all. Anyways, we need to admit that this is one of the sturdiest trampolines we have ever tested.
Frame
As we mentioned before, the frame in this rectangular trampoline is extremely heavy-duty, and it's the first thing you'll notice. The frame tube diameter measures 2.4 inches (60mm) and the tube itself is 0.10 inches (2.5mm) thick. These are very thick poles and we feel they could take a lot more than the stated 1650 lbs, but don't push it. The frame tubes are black-power coated inside and out, thus ensuring a rust-free experience. Besides that, it looks super cool! One thing to be careful about is during assembly, as scratching the tube (especially when connecting springs to the frame) will damage the coating, and you can say goodbye to a rust-free experience.
Frame dimensions: Height 3.6ft (1,1m) / Height with enclosure 11ft (3,3m)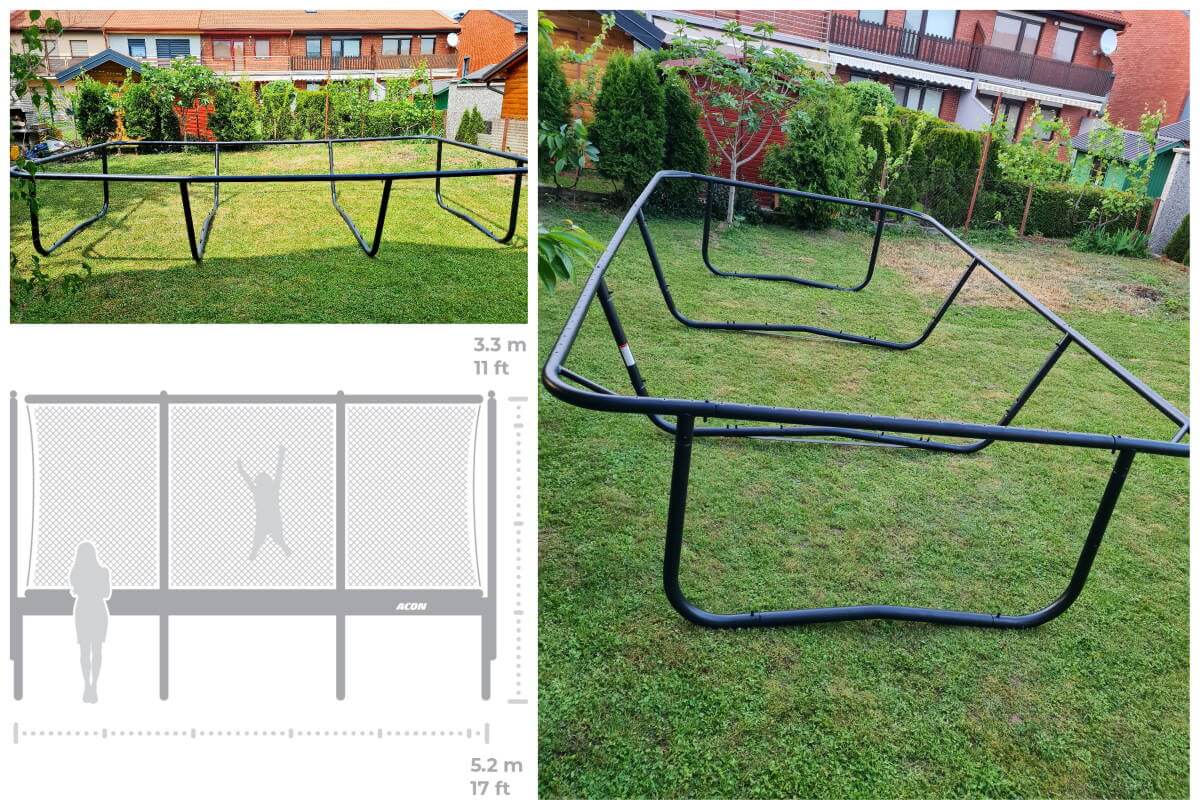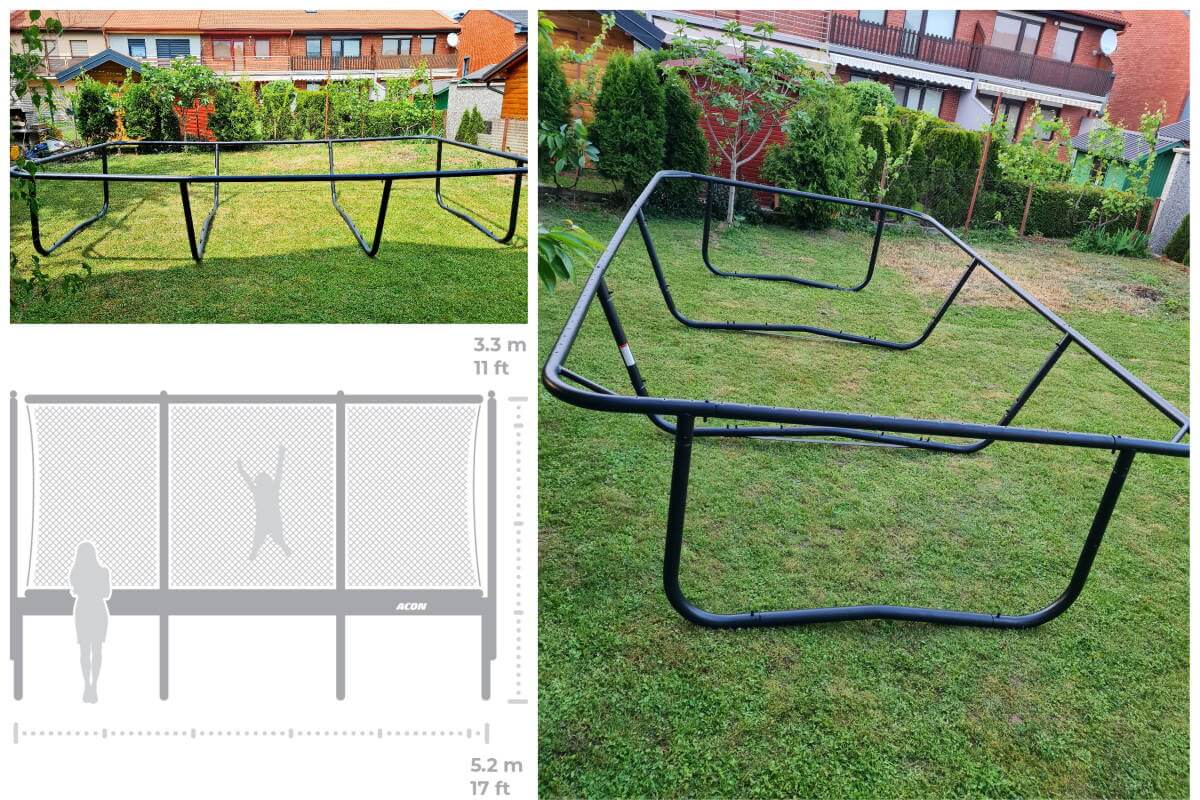 Weight limit
It's hard to imagine, but ACON was among the first manufacturers to offer "No single user weight limit". It doesn't mean you can put everything on it, but it offers a structural weight limit of 1750 lbs (800kg). From my experience, there might be one or two manufacturers that offer something similar, but we wouldn't bet other trampolines have the same specifications or price-to-quality ratio.
The only thing that stands out and actually has a weight limit is a ladder, which is complementary and definitely required, due to the height of the trampoline.
Bounce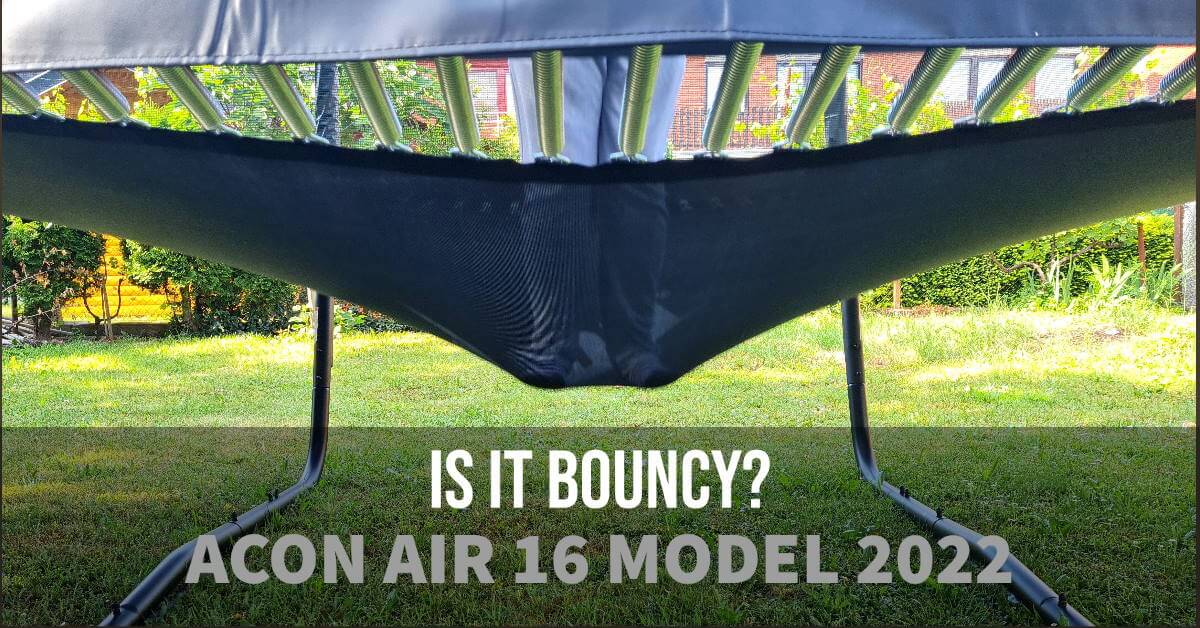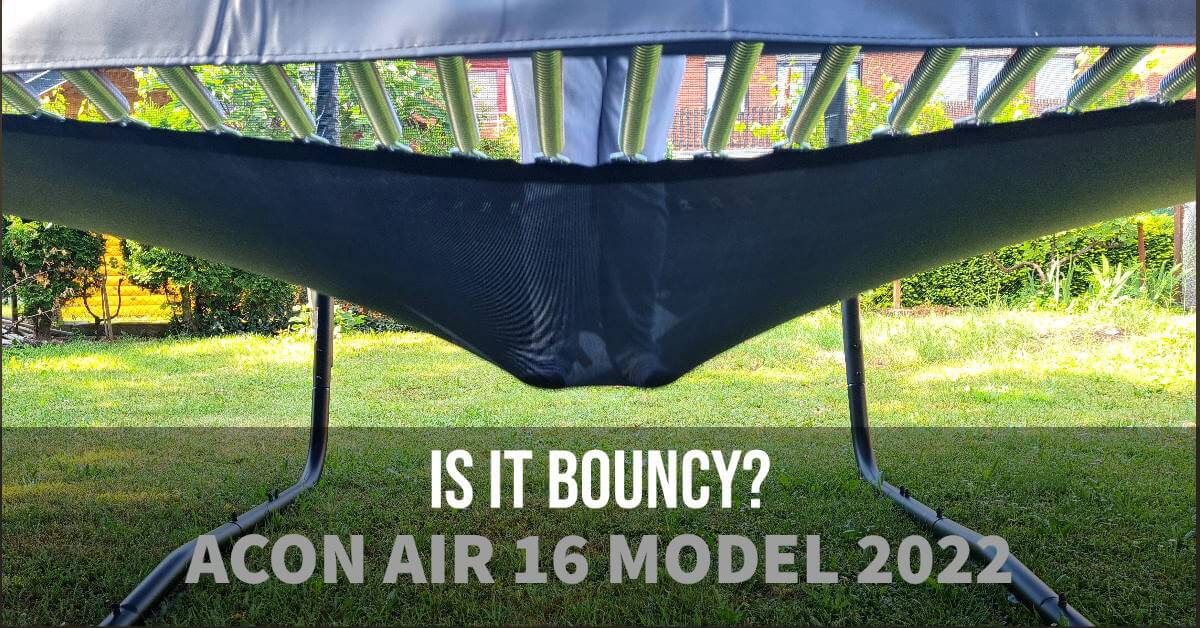 Now, this is where the real fun starts. When you first get your feet on ACON Air 16 everything will immediately be clear to you. If you are trying it out during assembly, without safety padding installed, then you can see how good those springs are, how they stretch even just by standing on it, and it hits you – you did a good jin selecting this trampolines, as it will provide everything you need in your training sessions. Even 120 lb jumpers will unleash all power this trampoline offers, lifting you in the air in a way you never tried before, at least not on the regular backyard trampoline. As bounce is insanely high, doing whatever tricks on it becomes a breeze, and will offer enough confidence to do tricks you only imagined and dare to do on professional trampolines.
Mat
UV-treated cross-sewn polypropylene with 10 rows of stitching, which is an industry standard found only on most durable trampolines, so you can jump without any worries about tearing it, even when used by 300 lbs+ jumpers.
Mat is 171-inches (14.24ft/434cm) long and 86-inches (7.15ft/218cm) wide. As the mat stands at 40 inches from the ground, you'll start to appreciate included ladder, otherwise, kids would definitely have a problem climbing onto it. The trampoline measures 10x17ft and the jumping mat is about 8x15ft, meaning there is 120 sq. ft. of jumping surface!
Springs – How good they really are?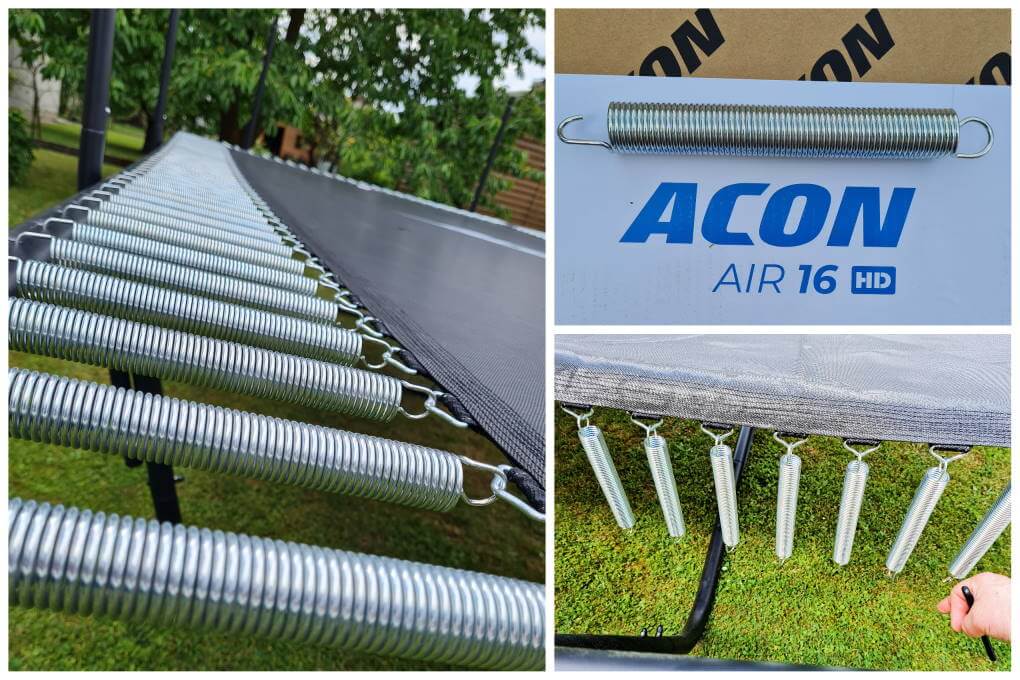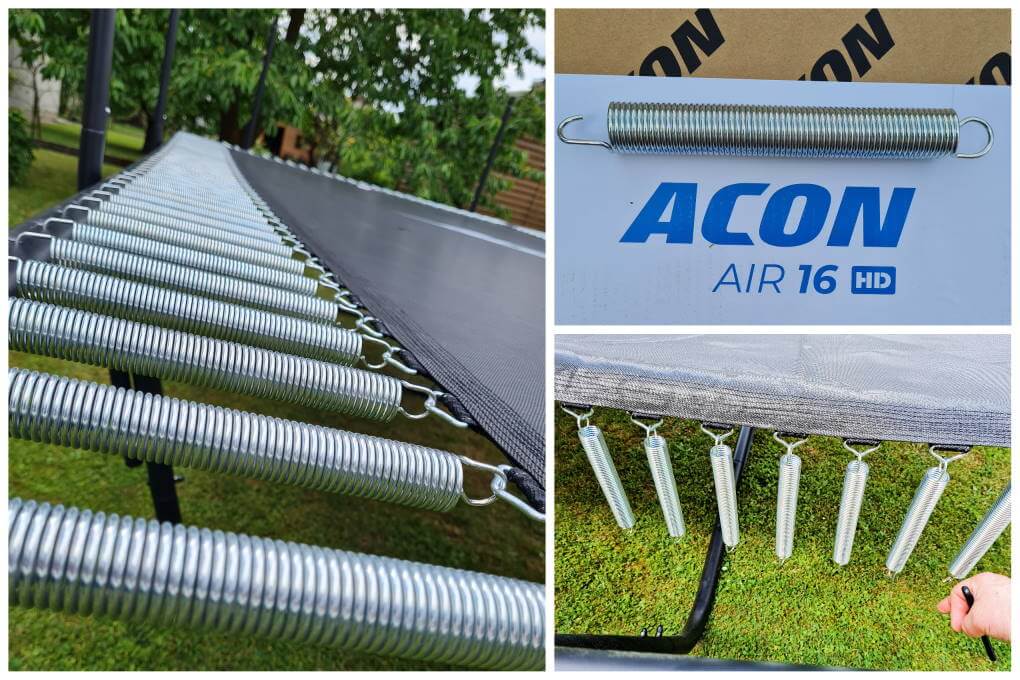 The Acon trampoline boasts an impressive number of springs – 140 pieces of heavy gauge springs!
10-inch (25cm) long springs are fully galvanized in order to prevent rust. This all works out to give a bounce that is simply out of this world. The trampoline is extremely responsive and you can bounce very high with little effort. You can basically jump as high as you want, but take care not to jump over the enclosure! 🙂 Springs are preloaded on 82 N.
As we mentioned before, it does take a little bit of weight to get the maximum out of springs, but does that mean that the heaviest jumper will jump the highest? Not at all, as initial energy dribbles in two directions – air friction and internal friction of the trampoline (mat+springs). The jumping mat is not elastic at all, and all the elasticity is provided by the springs that store potential energy applied by the jump. That's why longer springs will hold much more energy and provide a higher bounce. So a lighter jumper will not store so much kinetic energy, while a heavier jumper will lose more on both internal & air friction, basically, the intermediate weight would be some kind of a sweet spot. In terms of ACON – jumpers weighing 200-260 lbs would jump highest.
As with all trampolines, ACON certified their springs – CE /ASTM certification where it passed the weight limit on ACON AIR 16HD: 150kg / 330 lb, basically industry standards for rectangular trampolines.

Optional – Performance spring kit

For those people who think that 10″ springs just won't do the trick, ACON introduced an addition to ACON Air 16 package – Performance Springs Kit.
Coated in black, for a more dramatic look, Piano Wire Springs give the maximum stretch of any spring on the market, which means more energy into every leap and landing. The Piano springs create a smoother rebound, which makes for a softer mat feel. So, your launch and leaps feel more pleasant than ever. Intended for more advanced jumpers, it provides new heights in leaps and performance, together with 200% better fatigue resistance. Piano Wire Springs have been weight tested to the same ultra-high rating as standard X-series springs on the Air 16 HD trampoline series.
Safety
As with all trampolines, safety is an aspect that you really need to be aware of. ACON Air 16 is not an exception. They do a marvelous job in minimizing all the safety risks, from thick padding to very high enclosure, but every parent needs to be aware that trampolines come with some risk, no matter what kind of safety precautions you take. That's why rectangular trampolines should be used by people that already owned a trampoline and do have some jumping experience.
Enclosure
ACON 16 enclosure is perhaps one part that could still be improved, and more likely it will be in future releases of the ACON 16 rectangle trampoline model. Not that it's bad, but there are possible improvements for netting to pole connections, as the current setup is lacking in two different aspects: Pole covers will not hold the net in place during stronger winds (check the image below, taken after two storms with 80 mph winds) and the overall feel is that it's a bit too loose.
There are special doors you use to get on and off the trampoline. Of course, you can leave it on all the time, as the net is UV resistant and should not degrade over time. Time will show if we're right, they do seem sturdy and well-built and they should last a long while.
Net is 7.3 feet high when measured from the mat, giving the trampoline a total height of over 11 feet. A total of eight poles are each 0.08 inches thick and measure 1.7 inches in diameter. They too are galvanized both inside and out, and covered with foam and PVC sleeves.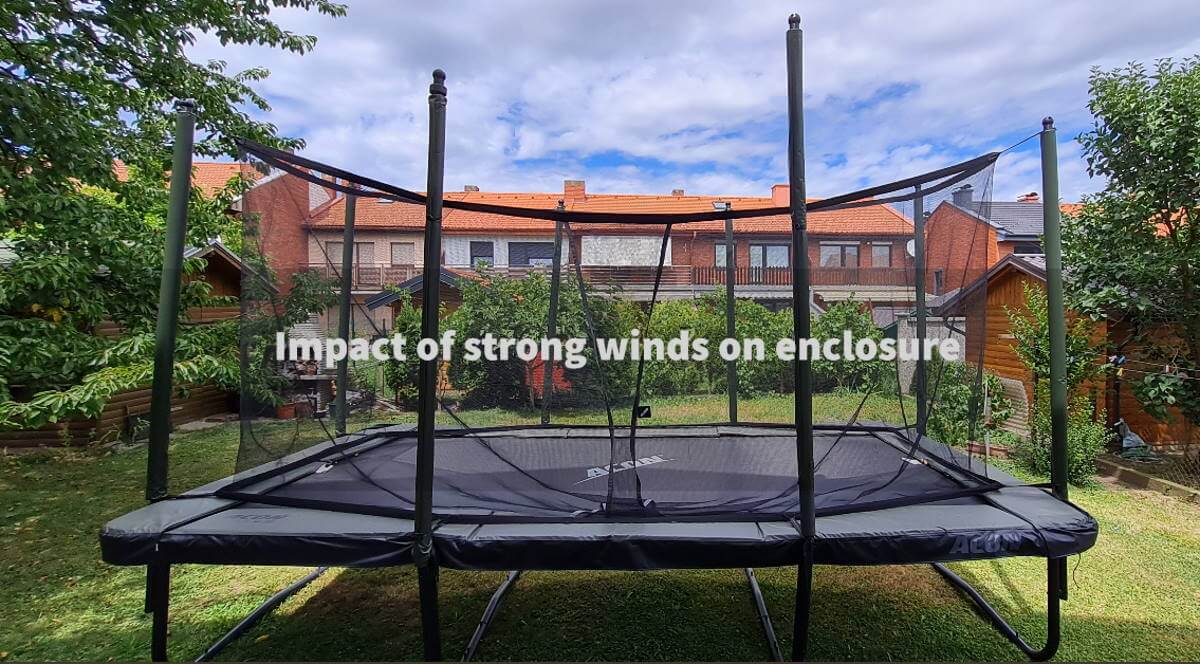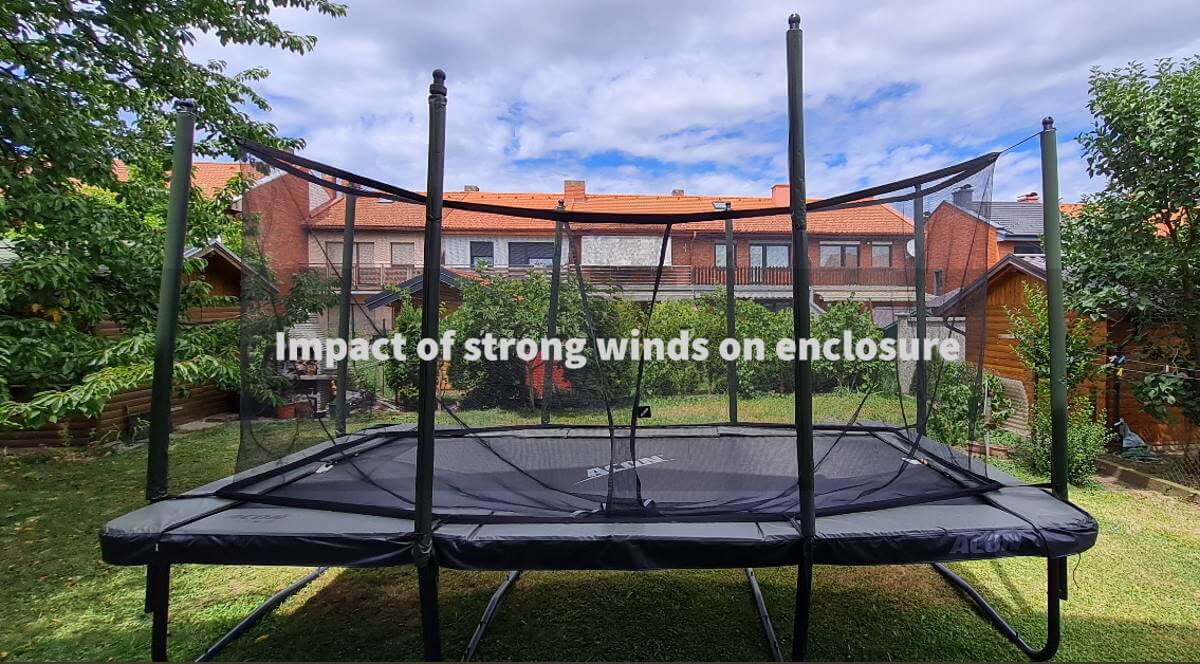 Padding
The safety pad is 1.4-inches (35mm) thick and covered in UV-resistant vinyl. It's 15.8 inches (40cm) wide so it covers the whole length of the springs. There have been thicker pads than we've seen, but this one is perfectly adequate. The material is of better quality than most other competitors offer.
For maximum safety, the poles that hold the netting are covered with thick foam with a layer of vinyl that helps absorb the forces of impact, should you misjudge a jump (Image 1 on the picture below).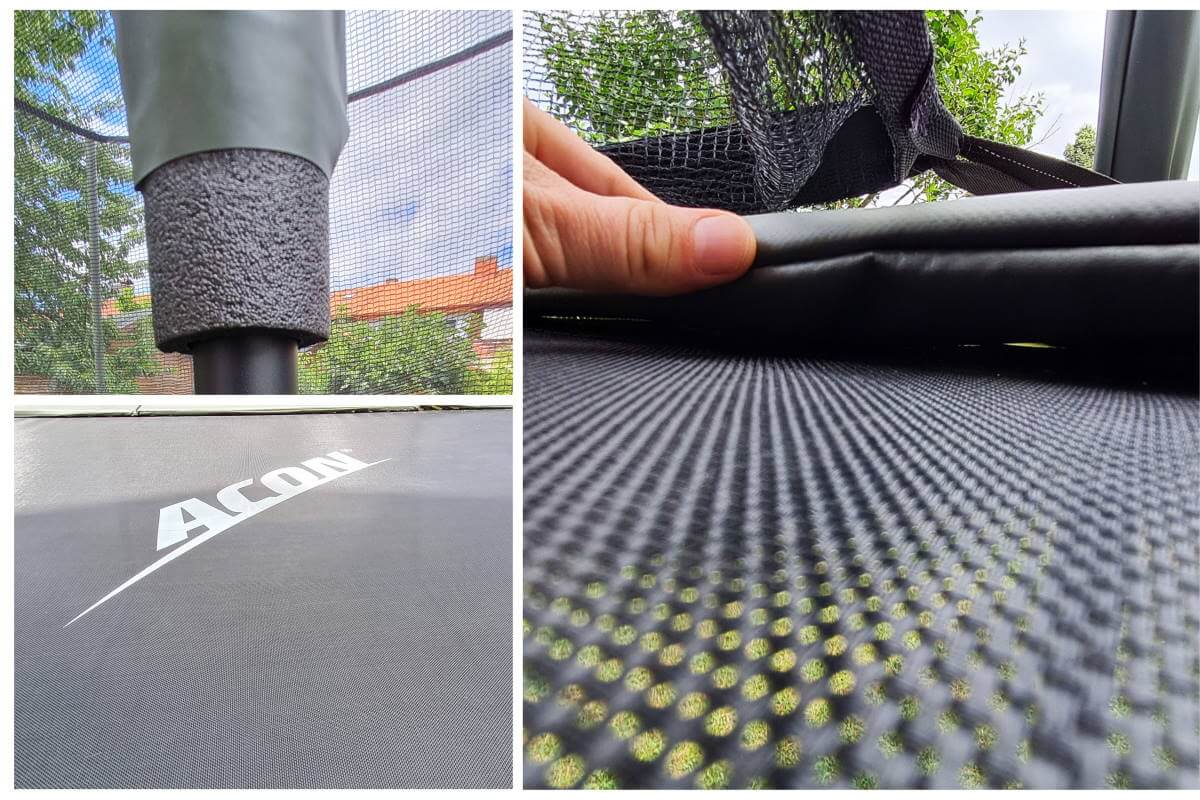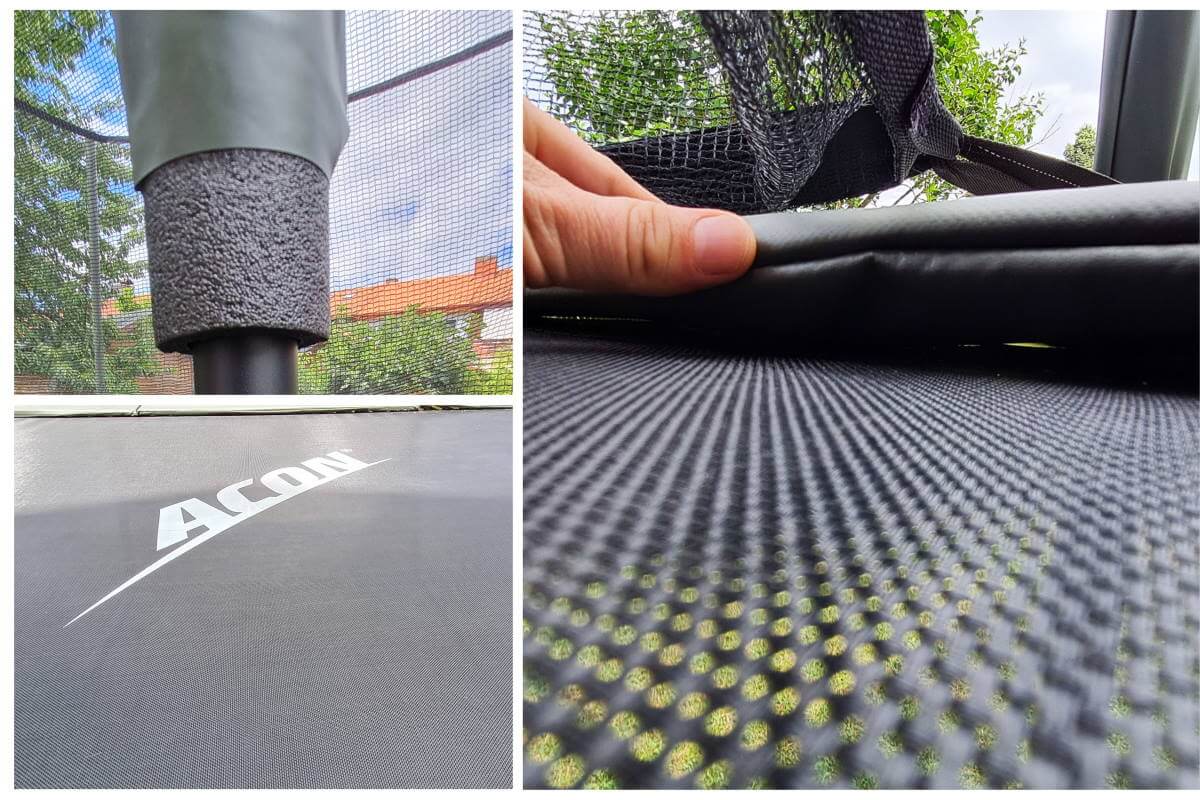 Quality
When it comes to quality, you'll absolutely get what you've paid for. Quality is exactly what you would expect from semi-professional equipment, it might even precede it. From frame, which is top of the class, then mattress, which is 10 times cross-sewed, all the way to the giant 10″ springs, which will definitely provide the lift you expect it to. The only thing it kinda bothered us was netting, as a bit stronger winds can loosen up connection joints, so that's definitely one thing ACON will need to fix in their future models. Don't get me wrong, netting is firm and definitely does its job, and won't tear during higher winds, but it can fall down, as you might see in the images below: This is netting that withstood 3 separate storms (70+ mile winds)!
---
What's in the boxes – How is ACON packaged and shipped?
As we said above, you'll get absolutely everything you might need to enjoy this trampoline. It is shipped in 3 separate boxes, where two of them have everything required for trampoline assembly, while the third one comes with an enclosure, together with an anchor kit. Of course, if you only buy a trampoline without included enclosure net, you'll receive only 2 boxes, so no stress if that's the case.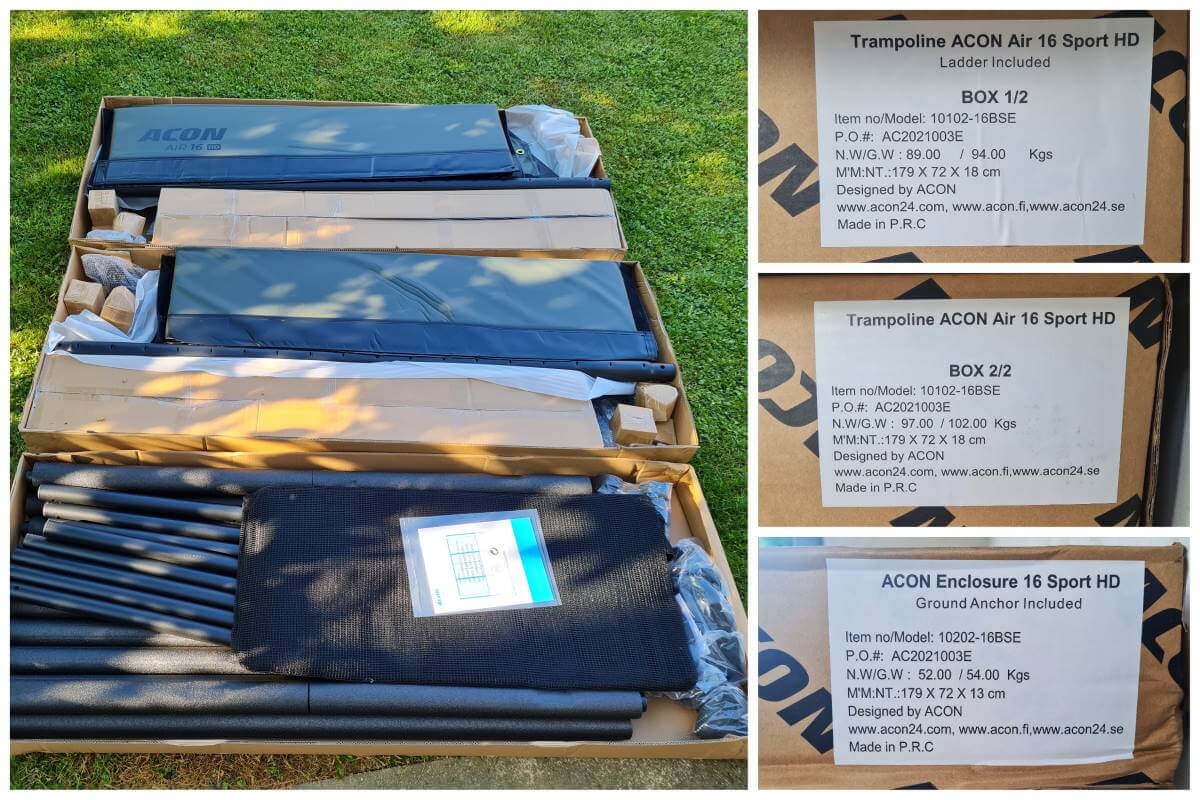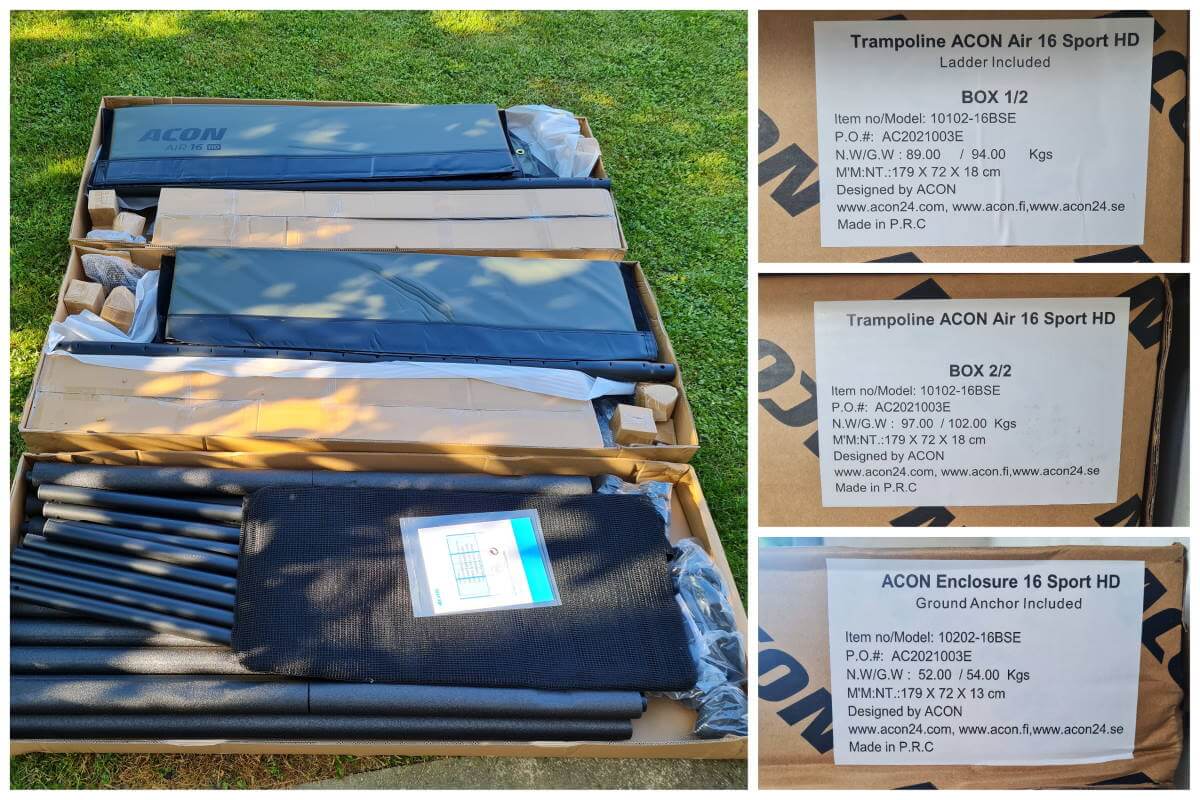 Regarding size & contents of the box, its as follows:
Box 1: 179 x 72 x 18 cm, 205 lbs (93 kg)
Box 2: 2179 x 72 x 18 cm, 218 lbs (99 kg)
Box 3: 179 x 72 x 13 cm, 121 lbs (55 kg)
Assembly of ACON Air 16 with included net
The trampoline comes in three boxes plus the enclosure and the assembly takes a few hours. The instructions are very good and clear, but since the trampoline is so large, be prepared to spend some time putting it together, with help of extra hands as it will be almost impossible to do it alone, due to its size and weight, as it weighs 420 lbs (over 500 lbs with the enclosure) and it's heavy to move around. It comes with a spring pull tool for easy installation of the springs, an Allen wrench (hex key), and a combination wrench. Beware, assemble it on the spot where you want the trampoline to be, you really don't want to move it afterward.
Warranty period
The warranty on the mat and springs is 5 years, on the frame of 10 years (less important as the frame is not expected to fail anyway, especially as it has a black powder-coated finish), and 2-year on safety pad.
To be clear, 5-year warranty on the mat is phenomenal. The enclosure and net have a more standard warranty of 1 year. The customer service is very good and will do their best to answer your questions.
---
FAQ
Are ACON trampolines worth the price premium?
Durability of ACON Air trampolines is worth the premium alone, and together with no-weight limits. fantastic springs with an optional upgrade, and excellent warranty – does provide exceptional value for money.
Are anchors really necessary on ACON Air 16?
Anchors that you get in Air 16 package look like a definite overkill, as they are intended to get 15-inches into the ground and look like they could anchor a trampoline during a hurricane. Hopefully, you will never test this claim, but in our opinion, and only for tornado/hurricane-free areas is that anchors are obsolete, due to the fact that this trampoline weighs 545 lbs. Now, if you do live in tornado-prone areas, definitely use anchors, and be on the safe side.
Did ACON 16 trampoline have any issues?
The only issue with them is that ACON Air 16 is almost always sold out, so if you get a chance – grab it.
---
ACON Air 16 Sport HD Rectangle Trampoline Specifications & Features
As the trampoline market lacks good rectangular trampolines, looks like ACON decided to put an end to it and make one great trampoline, capable of much more than fellow competitor products, in terms of part quality, jump height, and added accessories (there's a lot of them) and last but not least – overall specifications, which are, in terms of industrial design – excellent!

Let's jump to some ACON Air rectangle trampoline specs!
Weight limit: 1650 lbs (750kg) structural limit
Size: 10×17 ft,
Enclosure included: Yes,
Ladder included: Yes,
Anchor Kit included: Yes
---
Acon Air 16 Sport HD Review Summary
What is there to say? If you are looking for a great quality rectangular trampoline but don't mind paying the price for it, then this is definitely the choice for you. Such build quality is rarely seen and the warranty on the mat – the part most likely to break – is outstanding. The whole trampoline is sturdy and the fact that the manufacturer hasn't specified a maximum weight speaks of its brilliance. Not that more than one person should bounce on the trampoline, but even six people would be hard-pressed to overload it. The bounce is excellent and the enclosure provides enough safety for the regular user. Some might like its understated, conservative design.
This model is what a quality trampoline should be like. The only problem is – you better be ready to shell out a serious amount of cash. This is not a downside though; many trampolines of this size can cost even more, and with this one, you do get what you pay for.