What do we have here? The innovative design of SkyWalker Rectangular Trampoline with Enclosure
This Skywalker 8×14 ft rectangular trampoline with enclosure is one of Skywalker's innovative concepts that are designed to provide you with safety and contentment. It is designed to suit trampoline lovers from the age of 6 and above. If you are planning to jump regularly, or if you are just a wannabe gymnast, you will find out how fantastic this trampoline really is.
Weight limit: 250 lbs (100 kg)
Size available: 8x14ft (green) & 9x15ft (blue)
Recommended Age: 6+
---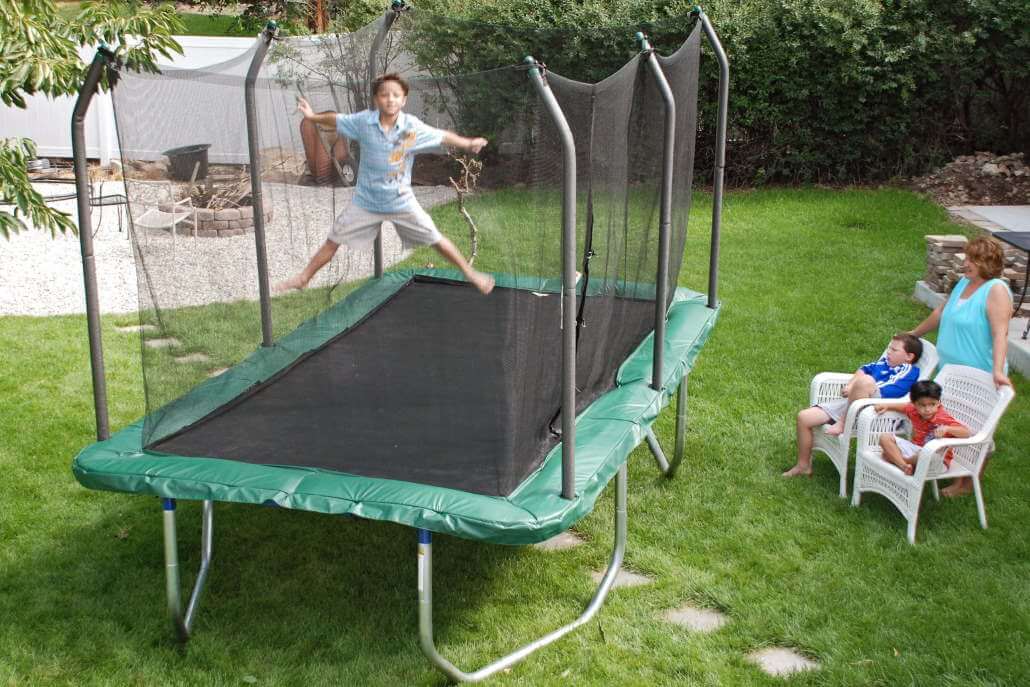 The rectangular design of this trampoline gives you all the room you might need to perform tricks or just do a high-intensity workout routine. Having fun along the process, definitely included. Workout on this trampoline will get you in shape quite fast – this is due to the high energy bounce with a very low impact on your body.
Regarding children, they too can feel free to use this trampoline and receive all benefits it has to offer. Of course, as those trampolines are mostly used by experienced jumpers caution is advised!
Skywalker 14×8 ft Rectangular Trampoline Specifications:
Frame:
The Skywalker rectangle 8×14 with enclosure is stabilized with 4 U-shaped legs made from 12-gauge galvanized steel. While this sounds like a low number, due to the sheer size of 8x14ft, and as other manufacturers tend to go with 6 support legs, we have to say that this works well enough, as legs are very wide, so stability issues are out of the question.
Like on all Skywalker trampolines, joints are not welded but interlocked by their T-shaped bracket system, which definitely helps during the assembly.
Enclosure
Enclosure net fabric is made from high-grade PVC – durable and repellent to UV radiation. The material is also UV-treated for durability. It has a mesh fabric enclosure that ensures a safe jump, especially for children and first-timers. The mesh is locked with a zipper and three clips for double safety. As enclosure is the most important safety feature make sure to use it. Don't like it? Take it on the bright side, it also provides partial protection from the UV rays! Gaps on this trampoline are removed by locking the mesh to the jumping pad. You can have fun with absolute confidence in it.
The steel pole frame, responsible to hold the enclosure mesh fabric, is coated with a layer of soft padding, but you shouldn't worry as the arch-shaped system allows the mesh to move outside of the padding and jumping area itself, providing increased safety and more room for jumping. The trampoline jumping pad is UV-resistant and is made of high quality very thick vinyl.
Mat & Springs
The jumping mat is made of heavy-duty, UV-protected polypropylene. Bounce is good, but we expected much more, as there are two different sets responsible for it –  80 pieces of 7-inch springs and 4 pieces of 5.5-inch springs, both with an outer diameter of 1-inch.  Maybe a bit longer springs would do the trick, at least 8-inches long.
Honestly, older models did use 7.5″ springs, so we wonder why Skywalker decided to go with shorter ones, is it for functional reasons or just to decrease the price. We hope that they work on a next-gen trampoline model which will overcome those shortcomings (in our opinion). Anyways, 0.2 points off the springs rating… Sorry.

Warranty
3 years of the limited warrant only on the frame has while everything else, such as the net, has a 1-year limited warranty, from the date of purchase.
Pros
With the Skywalker rectangular 8×14 you'll get a very controllable jump, due to its rectangular design, but could be better.
Safety is assured with the enclosure net. The net is high enough and moved out to create enough room for a jump. Your safety is assured because all the gaps are sealed.
Very strong and durable product and thus can serve both the family for fun and aspiring athletes for additional exercise (cheerleaders love it)
Cons
Maybe a little downside on this trampoline is the very short warranty interval, which is two years on frame and only 90 days on other materials (including mat, enclosure, padding). Second, this is a fairly low weight limit, which is only 250 lbs (100kg).
Bad assembly manual. Some steps will be a bit difficult to follow. But once you get it, it should be easy to follow. Complete assembly requires around 3 – 3.5hrs and requires your wife or best friend! 🙂 Together with a warm sunny day!
Reviews of Rectangular Trampolines
Skywalker Rectangular 8x14ft Trampoline
Skywalker rectangle 8x14 foot trampoline exhibits a high level of safety, due to; the enclosure, the padding on frames, elimination of gaps and a zipped lock. Fun factor is enhanced by high density foam on jumping pad and high quality springs which allow high bounce, but too bad there is not more of them. Stability & overall quality are decent but not worth the asking price.  Personally, we would go with ACON rectangle or Upper Bounce Mega.
PROS
Good and really sturdy frame
Very safe enclosure
CONS
Bounce could be better
Bad customer support (a lot of times wrong delivery)