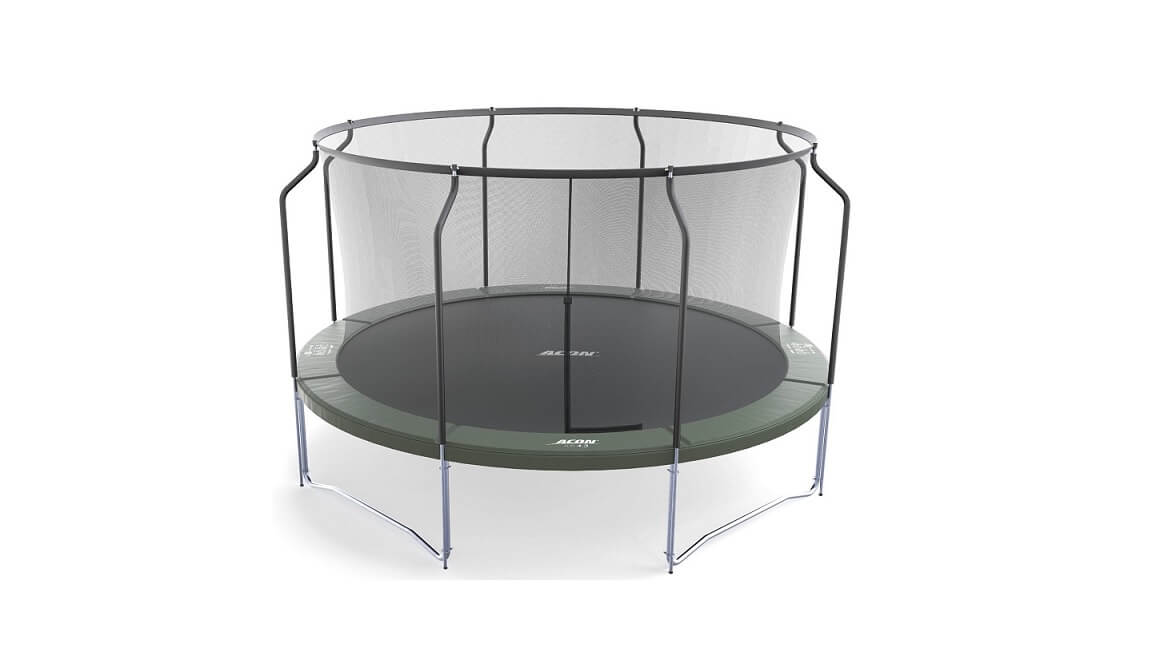 Review of Acon Air 4.3 Trampoline with Premium Enclosure
Believe it or not, Acon USA Inc. trampolines are one of the first trampolines that actually have NO SINGLE USER WEIGHT LIMIT (actually it is 800 lbs, but we doubt that any bouncer will be close to reaching it).
A thicker and stronger frame & mat, along with ultra-durable and long springs are enough to bring confidence for Acon Air to remove the weight limit. There's no question that this is a seriously heavy-duty trampoline. So we come to the bigger one – Is Acon Air 14 ft round trampoline worth your money?
Weight limit: 800 lbs, so no weight limit
Model and Size: ACON Air 4.3 – 14ft
Recommended for: Age group 7 – 18
Size options: Acon 3.0 (10ft), 12ft, 14ft, Acon 4.6 (15ft)
---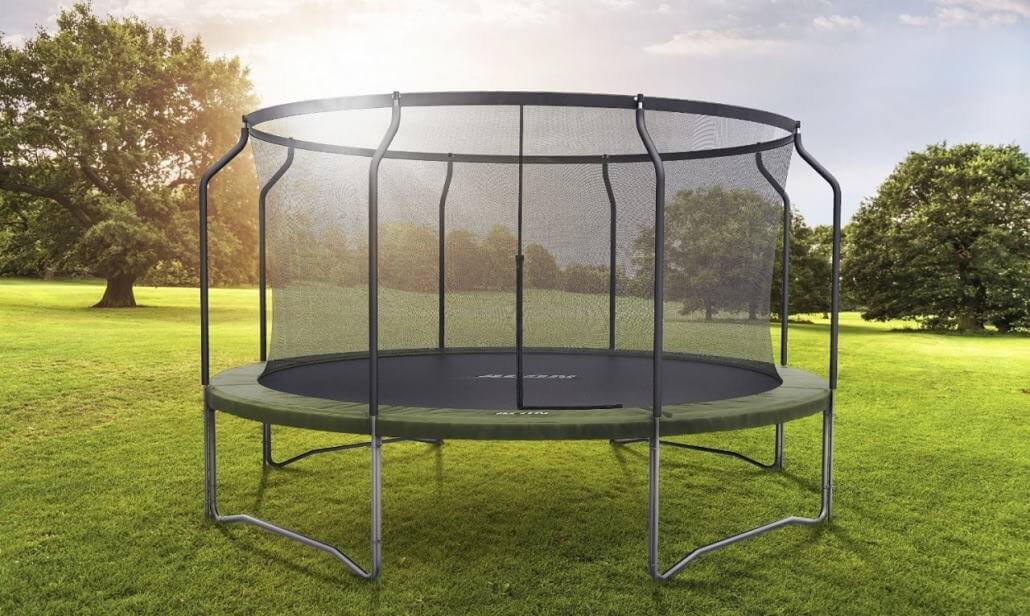 Specifications of ACON Air 4.3 14 ft Round Trampoline
As this trampoline originates from Finland, one of the richest European/Scandinavian countries, trust me when I say that the precision and quality of the manufacturing process can only be at the highest level of excellence.
ACON Air, globaly branded trampoline (had huge help from the fact that it doesn't have a weight limit), is a trampoline whose specs are right beside the current market leaders: AlleyOOP Power DoubleBounce or SkyBound Stratos, among several others…
Frame:
Double galvanized 2″ thick steel frame with pipe thickness of .08″, making it incredibly sturdy but also very heavy, so have in mind that moving it is not a simple task.
Springs:
96 pieces of 8,5″ (21,5cm) heavy gauge steel springs with a spring preload of 69N (force of 69 newtons is equivalent to the force of 15.5 lb and will certainly give you a lift you need!). Too bad they didn't go with a few additional ones, but because of their length real high bounces are possible, but you do need to work for it as the trampoline is not as bouncy as we initially thought so.
Mat:
6 cross-sewed polypropylene mat is UV treated and will withstand longer exposures to direct sunlight. Mat is not very thick and according to the tests from Swedish Institute of Technology (performed in 2015) mat had serious issues with V-rings, as when put under 1500 lbs load a lot of V-rings became unusable. Of course, this was on the earlier model so we hope this has changed, and we are almost certain it had changed on Acon Air 3.4 Black Edition (below) which now has 10 rows of stitching. Bounce itself is average, but due to thickness we haven't expected anything else, or maybe those springs require a bit heavier tester – you are welcome to let us know your thoughts on it. So for now let's just say that mat is fine-tuned for everyone.
Padding:
The padding itself is made from a 1.2″ thick rubber vinyl-coated pad which is almost 14″ wide. The padding looks well constructed and feels very substantial. The vinyl covering on the pad is very heavy and thick and looks like it will withstand all kinds of weather conditions. Currently, padding is only available in a single color – green.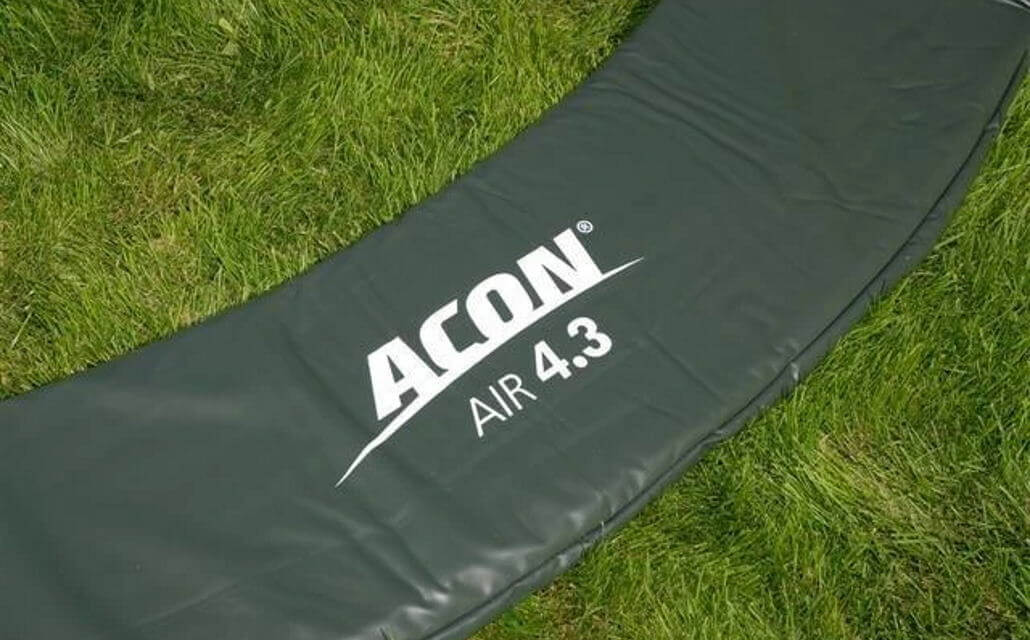 Enclosure:
The enclosure net is really strong and well designed but is very difficult to fasten it to the mat with the supplied cord. If you have any, we recommend using zip-ties as the complete process will be much faster, the design team at ACON definitely needs to work on it, as attaching a net is simply impossible to do by yourself… The tension of the enclosure is very good, and due to the weight of the trampoline (240 lbs) is almost impossible to flip it over, of course, this only goes for hurricane/tornado-free areas. And if you still think about safety, be aware that the enclosure is connected directly to the mat, so it is almost impossible to hit springs or frame itself. Hitting the padding, on the other hand, is quite a possibility, so your only option is to stick close to the center. Of course, this goes for all round trampolines which are smaller than 15ft in diameter, strictly because of the size.
Enclosure Poles:
The ends of the tubes should be smoothed as you could pinch yourself when installing the top of the net to the net support tubes.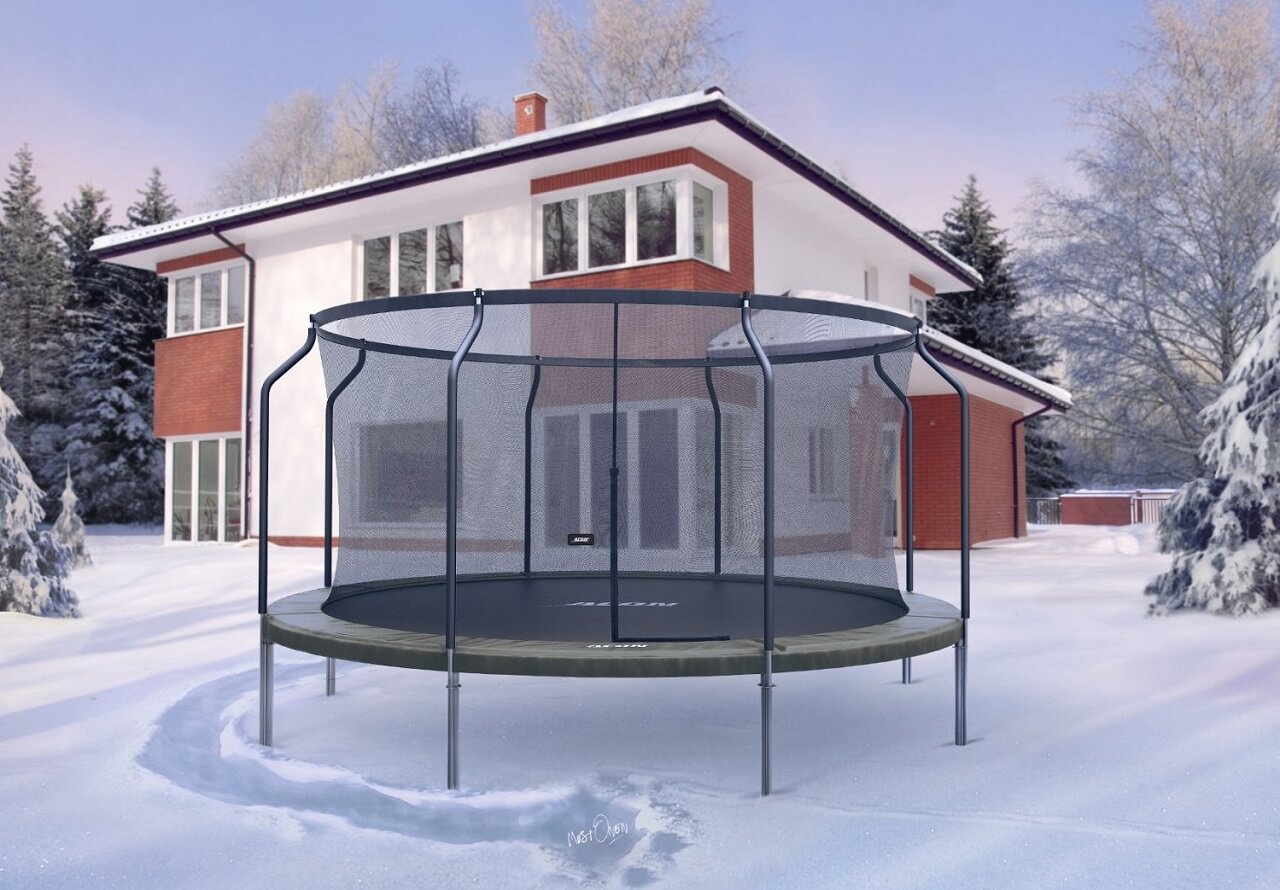 ---
Assembly
Manual is fine and assembly is pretty straightforward, without any complications, but we would recommend going through them before you begin. Use both the written instructions and the pictures, because it's very easy to make a minor mistake when fitting the enclosure net – and we can assure you, that's the task you don't want to do twice!
Warranty
5 years on frame and 1 year on all other parts.
New model for 2022 – Acon Air 4.3 Black Edition
Unfortunately, we still didn't test the 2022 model, due to COVID-19 there is limited availability. But as soon as we get our hands on one of those, we will properly test it and let you know if ACON learned from their mistakes and corrected them, accordingly. Stay tuned regarding the 2022 Acon Air Black Edition!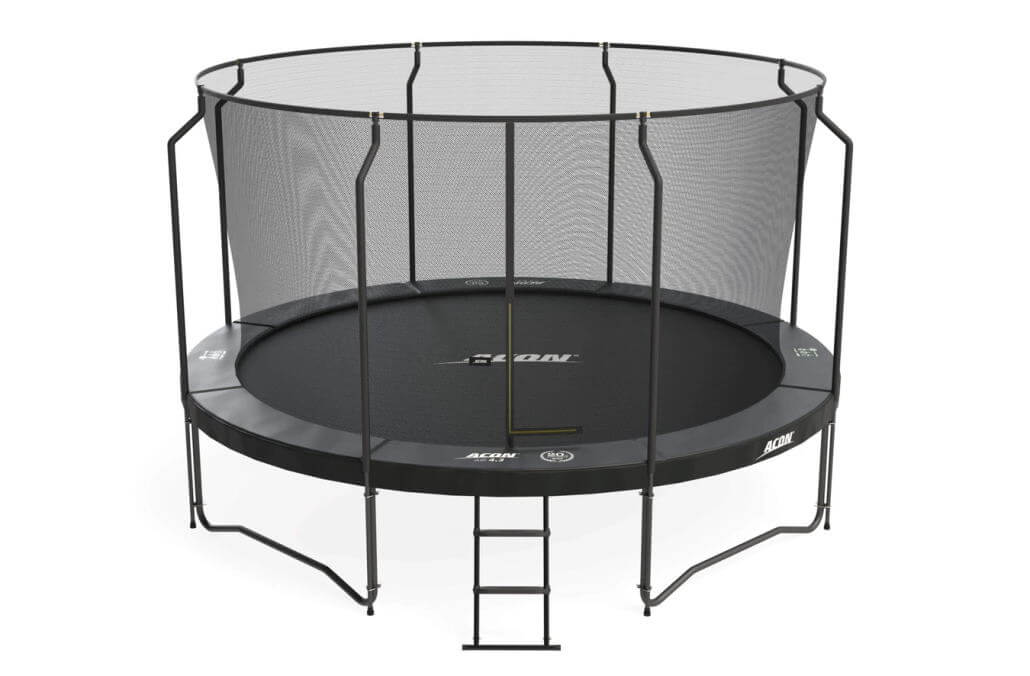 ---
Best Trampolines with Expert Reviews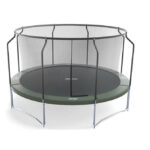 ACON Air 14ft Round Trampoline
If you search trampoline which will be used by all possible age groups and will do it's job just awesome, then Acon Air 14 ft Trampoline with premium enclosure is the right choice. A bit higher price is well justified by provided part quality.
PROS
No weight limit
No need for disassembly
Part quality
Suitable for year-round use
Ladder included
CONS
Mat (in this price range we expect Permatron, or at least 8 cross-sewed PP)
Poles with sharp endings
For that kind of trampoline warranty should be longer