S155 Springfree 13ft Jumbo Square Trampoline with – Basketball Hoop, Ladder, tgoma gaming system!
This unique square trampoline by Springfree (who else) is bound to be of interest not only for trampoline enthusiasts, but to laypeople as well. There are plenty of high-tech gadgets to keep the adults interested, as well. With a unique shape and a unique look, it definitely looks like it means business. Were we swayed by it? Read on….
Weight limit: 220 lbs (jumper), 1100 lbs (structural limit)
Recommended for: 4 – 99 y.o
---

Frame & Enclosure
The enclosure helps keep you safe with its proprietary safety net – it's called FlexiNet and is resistant to tearing. The enclosure rods bend and adapt as you go – you can't hit the enclosure pole anymore. They are made of composite fiberglass. The sturdy frame is situated beneath the jumping surface so you cannot hit it.
The poles are both double powder coated and galvanized, guaranteeing many years of rust-free enjoyment. This trampoline is likely as safe as you can get in the world of trampolines, due to its unique structure and engineering.
The total height of the trampoline is 9.3 feet.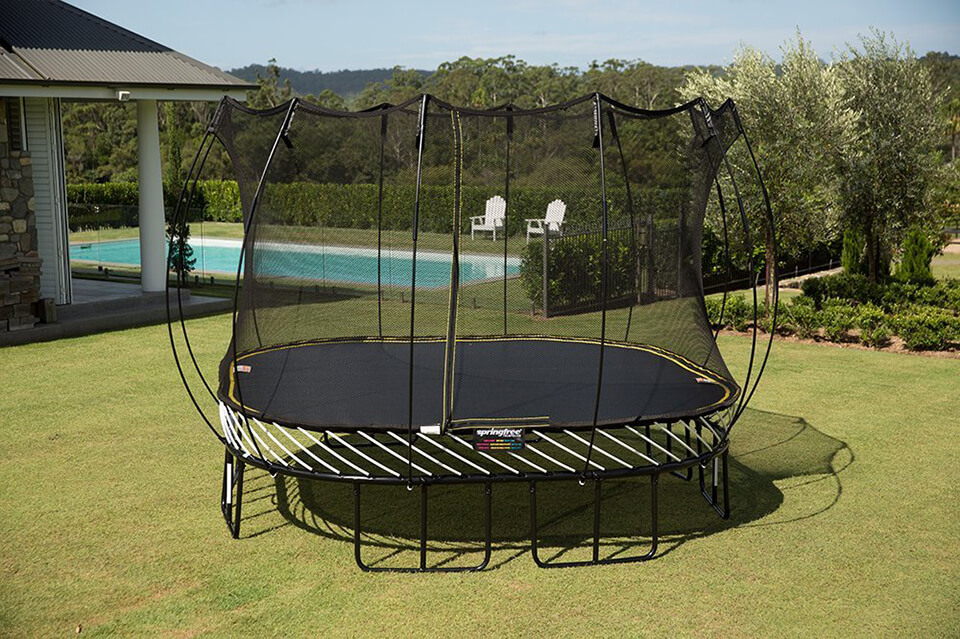 Buy on Amazon - $1,624.00 (last updated: 2023-12-01 01:00:03 ET)
Mat
The SoftEdge mat found on "Springfree Jumbo Square" trampoline can withstand 5,000 hours of sun exposure – magnificent durability. The 13 foot on a square trampoline is equivalent to 16 ft round trampolines, so bear that in mind (155 sq. ft. of jumping area). It is aptly named, as it absorbs more force than other mats, which makes the bounce much smoother. The manufacturer says it's edges are 30 times more shock absorbent than on similar mats.
There are no safety pads, as there are no springs to protect against. You get a smooth transition from the mat to the enclosure. Fantastic!
Bounce & Springs
There are no springs; flexible composite rods are used instead. There is a 220 lbs weight limit, but we feel it's a very conservative number. The trampoline itself can withstand loads of up to 1100 lbs!
Springless trampolines, as we have pointed out many times before, are a great way to bounce safer as there is less risk of injury – springs (carbon fiber rods in this case) are set below the jumping surface and it's impossible to hit or jump on them.
And the bounce? Well, you'd have to see it to believe it. Suffice it to say that it's excellent – as we expected. Just how it should be, considering its steep price tag.
You also get a ladder and a basketball hoop for extra value.
---
Assembly & Warranty
If you register it, the warranty period is 8 years on the frame and 2 years on other parts. Being quite bulky, it comes in four boxes, three of which weigh a hefty 100 lbs. You get all the tools that are needed for safe installation. All the parts fit correctly and, of course, no parts were missing (which can happen on value trampolines, believe it or not!).
The instructions are clear and the diagrams are easy to follow. They come with handy QR codes that link you to assembly videos you can watch if you get stuck during the process. You also get disassembly instructions. It takes at least two people to assemble this trampoline. We advise you against trying it on your own.
Yes, the price is very high, but there really isn't anything even remotely similar to this on the market. If you're looking for absolute perfection – you know where to find it. The tgoma system has upped the ante and the overall package is among the best in the world – making this the ultimate model for season 2022. AMAZING!
Tgoma
Let's start with what makes this trampoline so unique – Tgoma. This is the first smart trampoline on the market! It features the tgoma outdoor interactive digital game system.
The tgoma game system requires you to set up a tablet and install the app; sensors do the rest. The mat comes with embedded Bluetooth sensors that track your position on the trampoline and the height of your bounce. You also get a calorie counter and other stats to track your progress, which is a nice touch.
It's a lot of fun and it's safe, as the games are designed for a single user. There are various games available that you beat by jumping on the trampoline. Some are even educational, especially math games.
We haven't seen anything like it before and honestly we're a bit disappointed nobody thought of this earlier. It's so simple, but it works. Kids will love it for the games, while moms will enjoy it for its fitness capabilities.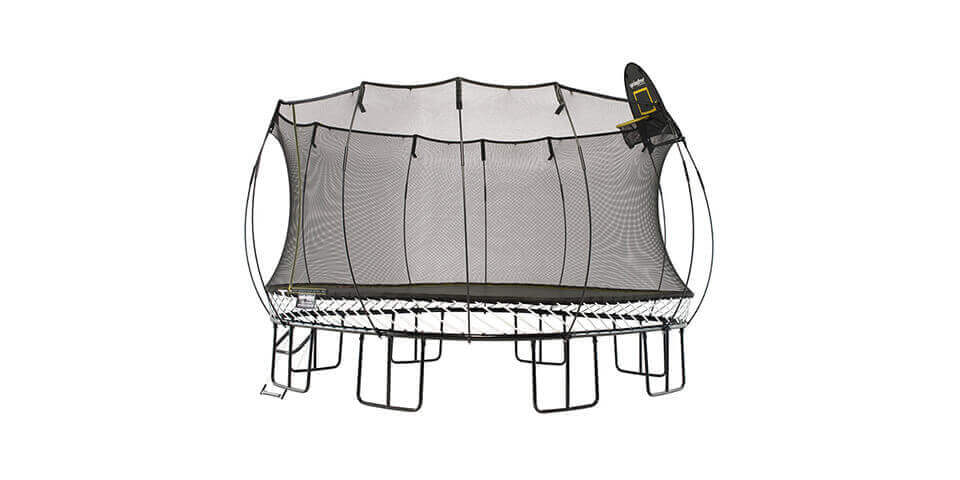 Springfree Jumbo Square Smart Trampoline
As all Springfree Inc. Trampolines this one too got ratings it deserves. Probably one of the most advanced trampolines you can currently buy.
PROS
Superb build quality
Innovative
Comes with ladders, tgoma and hoop
Extremely safe
Great warranty
Clear instructions (manual and video)