Review of SkyWalker 14×14 foot Square Trampoline with Enclosure
Skywalker square trampoline is one of the rare 14 ft square trampolines currently available on the market. As mostly round and rectangle-shaped trampolines are bought, where squares have similar characteristics as rectangle models, people mostly use square trampolines for smaller yards, where rectangle models don't fit.
Weight limit: 250 lbs (115 kg)
Price: price may vary based on color of the padding
Recommended for: Age 8+
---
Skywalker 14ft. Square Trampoline Specifications
Anyway, this particular square model of Skywalker trampolines offers fantastic amount of room to play and jump without losing functionality of standard models. As we said above, square shape offers similar jumping experience as rectangle models which they combine with amount of room found only on big round trampolines.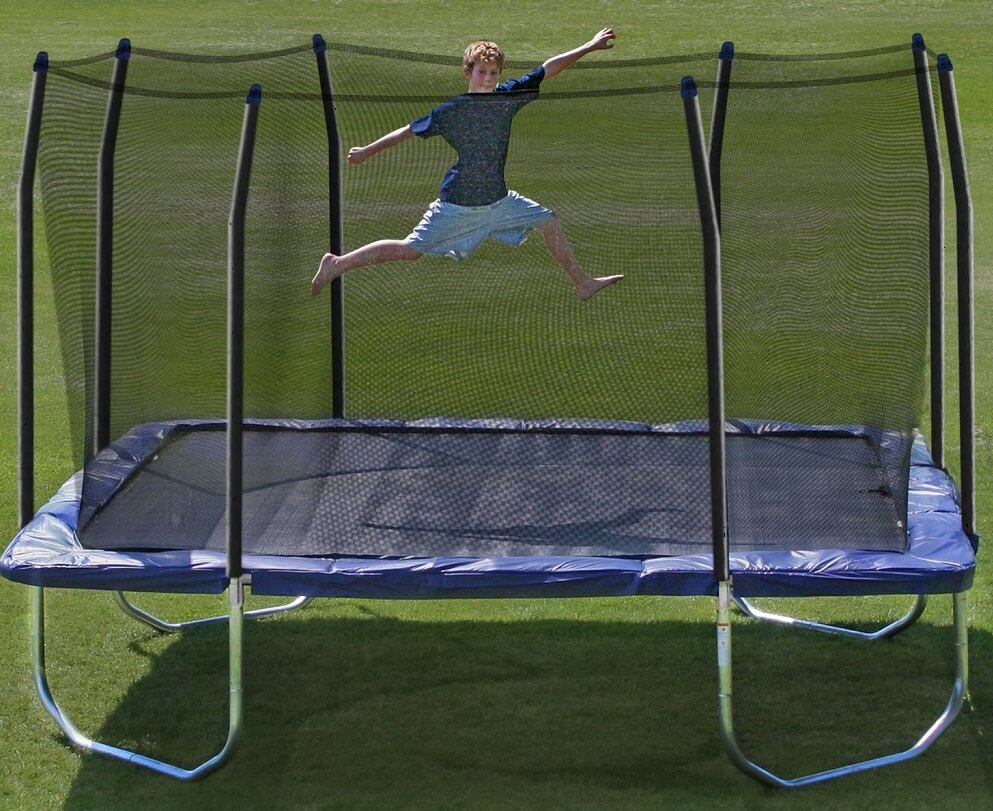 Frame:
Frame is made from 14-gauge galvanized steel which will insure that there will be no rust even if you leave it out in the open for several years. Frame is connected to 4 U-shaped legs with T-sockets, at each leg and enclosure joint, ensuring maximum stability and sturdiness.
Total height of frame from the ground is 37-inches so there is no need to buy extra ladder for safe entry or exit.
Springs: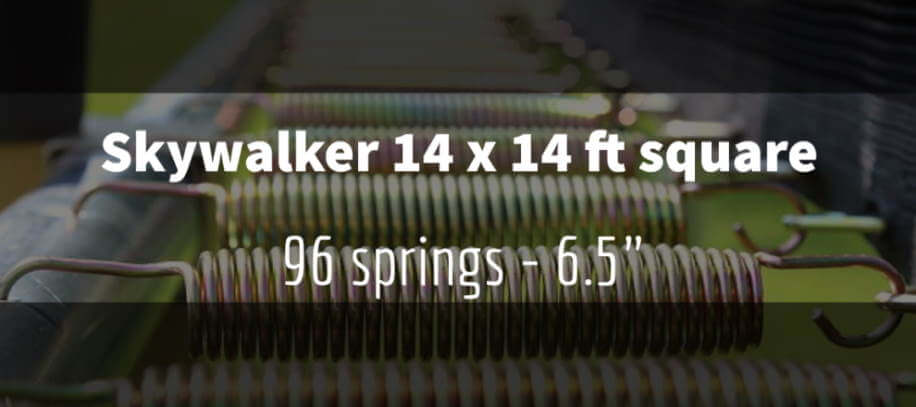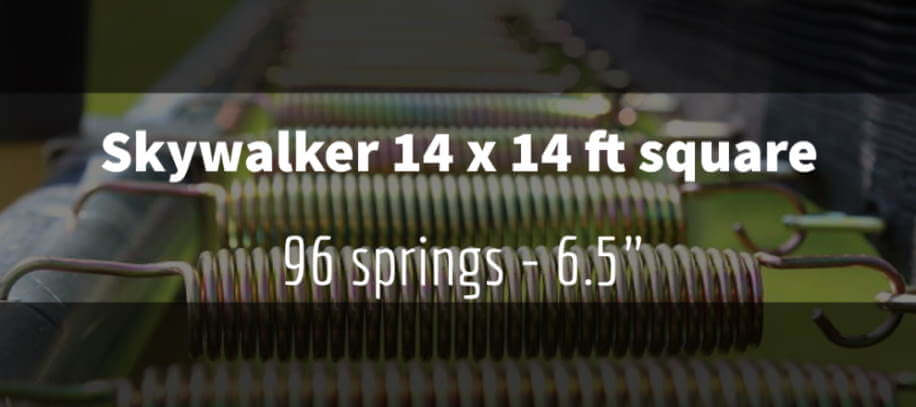 There is total of 96 pieces of steel springs, 6.5-inches long and 0.9-inch in diameter (1.25-inch springs can be bought as replacements, so if you own this trampoline we encourage you to take stronger ones, if needed, of course). When compared to 13 ft Skywalker square trampoline, there is 16 springs more on this 14 x 14 ft model. When compared to the competitors. this is very conservative number, definitely not suitable for trampoline this big. Also, bounce is not so high, mostly because of short springs.
Mat:
Mat is made from UV-protected polypropylene crafted with 6 rows of stitching. With almost 20 ft in diagonal, there is 149 sq. ft. of jumping place, which must be enough for all kind of trampoline-based activities.
Padding: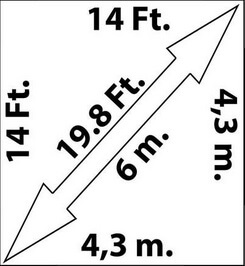 Safety padding is available in two colors – dark blue and camouflage, where choice of these dictates overall price. If you like camo, go for it, as there is almost $300 difference only because of this choice! If you don't like it, you can always order blue padding, as replacement parts are widely available. Padding is made from PVC Vinyl filled with 1-inch of foam which covers springs and frame. Unfortunately, our opinion is that pad is too thin.
Enclosure:
Enclosure connects directly to mat V-rings, giving you chance to enjoy jumping without any possibility of hitting frame or even landing on springs. Enclosure entrance is secured with zipper.
Assembly
Assembly manual for 14×14 ft square Skywalker trampoline, model SWTCS1400, is available for download here. Assembly requires two adults and can be finished in 3 hours. Only thing you might need is an screwdriver as everthing else is included in the packaging (even spring pull tool). Overall dimensions of assembled trampoline are: 109″H x 168″W x 168″D
Warranty
 Warranty is 3-years limited on trampoline frame, 1-year limited on other materials – standard Skywalker Inc. warranty on all their trampolines!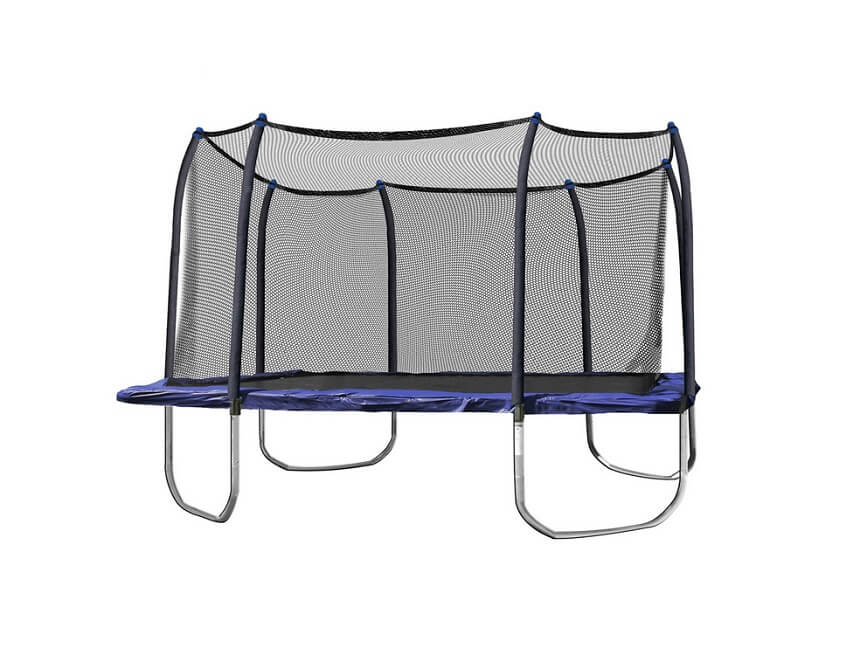 SkyWalker 14×14 ft Square Trampoline
This square trampoline really is huge one, without any significant downsides. Sturdy, strong but affordable - you can rarely find trampoline which falls in that group of trampolines today. Our thought is that this square shaped trampoline is one of the best-buys you can find today. Recommended!
PROS
Huge jumping area
Cheap (for what it offers)
Included spring tool
Availability of replacement parts
CONS
Spring count and length
Padding should be thicker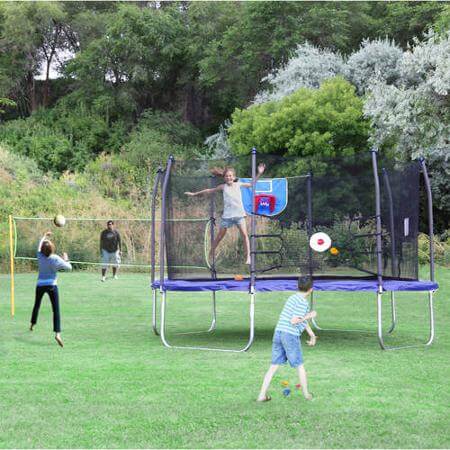 ---