Springfree Medium Round Smart Trampoline, 10 ft with tgoma Review
Springfree trampolines mostly follow the same underlying concept. All of their trampolines are high-tech, equipped with lots of modern gadgets and innovations. Of course, all of this is not just a gimmick that's supposed to turn your attention away from the shoddily built trampoline that lies underneath.
Weight limit: 220 lbs. (100kg)
Enclosure: Included
Recommended for: Kids up to 14 years of age
---

The trampoline structure itself is among the best in the world, and only a few select manufacturers and their selected models of trampolines are able to compete with it – namely, AlleyOOP PowerBounce, Acon Air Rectangular and SkyBound Stratos. Most of these brands provide a wholly different experience of owning a trampoline than the rest of the lot. This doesn't mean other trampolines are bad; it's simply the fact that these are outstanding. From customer support to unprecedented warranties, the service is often sublime.
Of course, this does come at a price, and neither of these trampolines are exactly cheap. Springfree trampolines set you out a four-digit sum of money, with $2000 being a fairly modest sum to pay for these models.
Safety
Let's begin our review with an overview of its safety features.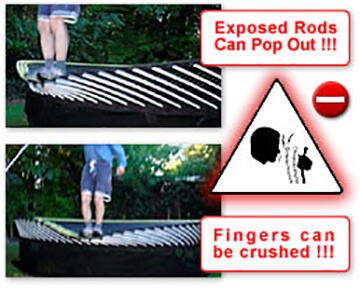 Springfree touts its trampolines as one of the safest trampolines around. They claim it is due to its springless technology. The fact that there are no springs means that you cannot land on them and end up with your limb stuck in between them. It doesn't happen often, but it's definitely a risk.
The manufacturer recommends 18 ft of space for the trampoline. This means some 5 ft. should be left clear for safety reasons.
The fact is, this really is one of the safest trampolines around. There are no metal parts that or sharp edges that you can directly contact, and the round shape of the trampoline gently directs you towards the middle, even if you somehow botch up a jump. The frame itself is positioned below the jumping mat.
Tgoma Gaming System?
The tgoma is a proper gaming system for your trampoline. It lets you transform your trampoline bouncing into a great interactive experience. Think of it as Microsoft Kinect but made for trampolines. In order to use tgoma, you need an iPad or an Android tablet. Unfortunately, you don't get one with the trampoline, and not very game is free. You get a couple of games for free, but from that point onwards new games cost extra, which we don't think is acceptable. Once you download the app, just fire it up and play some games! The sensors in the trampoline connect via Bluetooth to the tablet. If you child get bored, no worries, we got you – just check our list of fun trampoline games.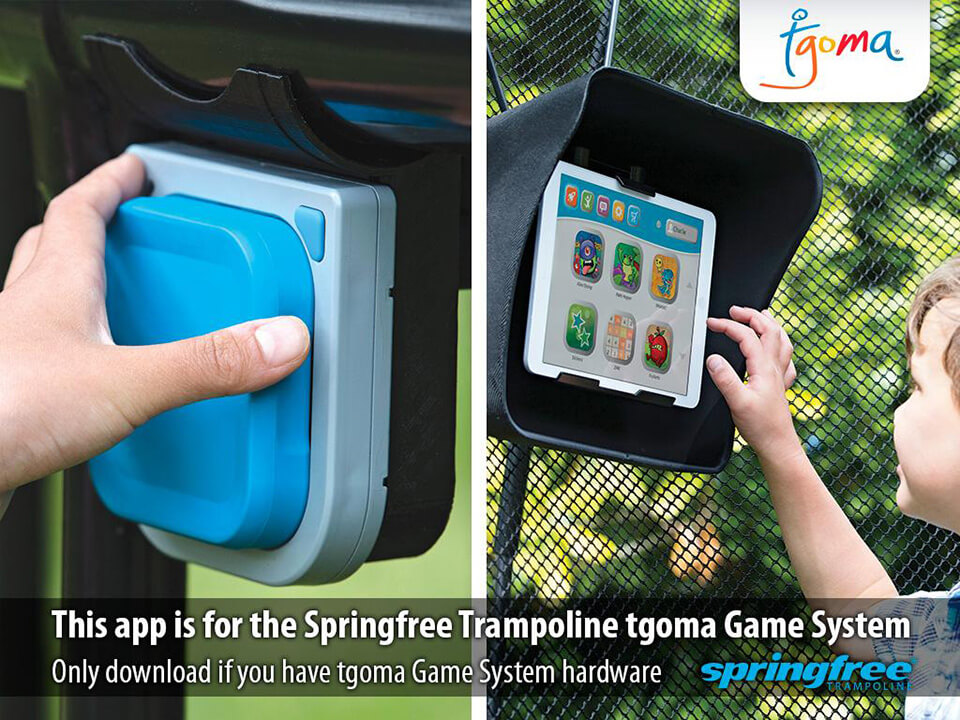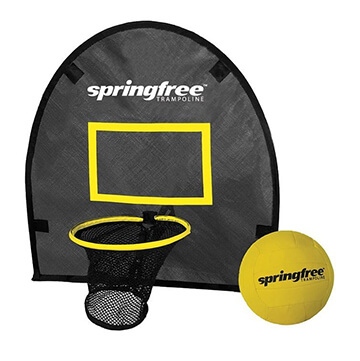 All games require your kid to move and jump around.
The selection is varied – you can do lots of things from jumping to create nice effects on the tablet screen to killing the alien invaders. Educational games also make an appearance – various math games are available. The app saves your high scores and you can compare them against your friends' or on a worldwide leader board.
Of note is the basketball hoop that you get, included in price. It's well-built and good for various games that you can play.
Overall, we give tgoma a thumbs-up. It's fun and it keep your kids (and you) bouncing. The games are very motivating and fun; they'll keep you bouncing literally for hours. Not to mention that it's a huge novelty in the world of trampolines. If you need more ideas – check our list of trampoline games!
---
Springfree Medium Round Smart Trampoline Specs
Size
Like most of the premium models, Springfree states the size of the trampoline according to its mat diameter, that is, according to the total jumping surface. Most manufacturers display the size of the trampoline according to its total frame diameter, meaning that for a supposedly 12' trampoline, the mat could be a lot smaller – about 10 ft, 11 if you're lucky. All in all, you get a mat with 79 sq. ft. of jumping surface. There are no pads that bloat the diameter of the trampoline, as none it's required, due to design.
The trampoline is imposingly high, 9 ft. in total. The mat is 3 ft. above ground, which makes it suitable even for kids. The FlexiNet mat is responsible for the rest of the height, with its 6 ft. of height.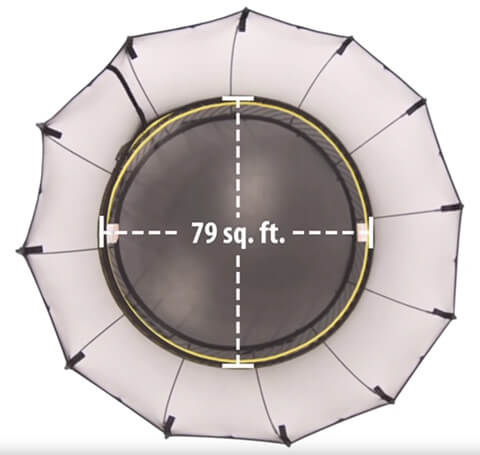 Frame & Enclosure
The frame can take a lot of weight. The 220 lbs. rated weight is a bit of a misnomer, as the frame's flexible poles can absorb huge forces and structural loads (more than 1000 lbs) The limit is mostly there to prevent multiple people from jumping on the trampoline, which can be dangerous. It's easy to get onto the trampoline, thanks to a special leg acting as a ladder.
The FlexiNet netting is fantastic. It's made of very soft and sturdy material that is tear resistant. It also doesn't degrade when exposed to the elements – the rain and the sun being the main culprits. We tried to damage the net, including smashing into it and trying to stretch it as far as it goes – but no dice. Great!
The rods and the poles are extremely flexible. They are made of a very strong material, supposedly used in the aerospace industry. We think that's a far-fetched claim, but they're very good. They provide a lot of support while not being too rigid at the same time. There's nary a risk of rust, with double powder coating.
It can be left out even during cold weather or rain, although bouncing during rainy weather is something we advise you against.
Mat & Bounce
The striking difference in quality of the regular outdoor trampolines and this one becomes obvious when you step onto it. It's a wholly different feeling than on trampoline with springs. The trampoline uses composite rods instead. They flex as you bounce. And boy do they flex! The bounce is really responsive and high. There are no two ways about it – if you want a premium bounce, a springless trampoline is usually your best bet.
The mat, called the SoftEdge mat, is made of geo-textile construction fabric. It's a very tough material; the manufacturer quotes a maximum static weight capacity of 1450 lbs (650kg). It is UV resistant and supposedly will not degrade for more than 5000 hours under the sun. Quite impressive, although we obviously didn't have the time to verify that claim.
There are no foam pads that cover the springs, as there are no springs, obviously. The mat doubles as a shock absorber, and it does the job rather well. The rated weight (220 lbs) is enough even for adults to bounce on it.
Assembly & Warranty
There are two tiers of warranty; a basic one and a registered one. A basic is half as long as the registered tier, and considering that it's not a hassle to register, we would advise you to do so as soon as you get the trampoline. You can do it online via their web-site. Make sure you keep your receipt, you'll need to scan it.
The warranty is 8 years on the frame and rods, and 2 years on all other parts, except the tgoma system – it comes with a 1-year warranty. Various other accessories also have a 1-year warranty.
The assembly of the trampoline is fairly straightforward. It shouldn't take you more than three hours, although a little help is needed for the assembly of flexible rods. The instructions should and could be a bit clearer for such a premium product. The diagrams are there, but it's really difficult to decipher them at times. It's as if they've done it on purpose. To their credit, there are lots of how-to assembly videos which are very good if you're having trouble, so overall, we cannot hold it against them.
---
Verdict:
Overall, do we recommend this trampoline? Well, obviously, yeah, if you've got the money. It's one of the best trampolines around. But is it good value? It's much more difficult to answer this question. You have to work this out on your own. The trampoline is very good and extremely well-built, but the high price is off-putting.
Furthermore, it is really unfathomable that you have to pay for some tgoma games, and you don't even get a basic Android tablet included in the package. Still, if you're looking for an absolutely premium experience when it comes to brass tacks – the bounce and safety, you've struck gold with this one. Not much is comparable to Springfree's offerings, and you can be certain you're buying one of the best products around. Or, you can purchase a decent trampoline for 1/3 of the price. It's up to you.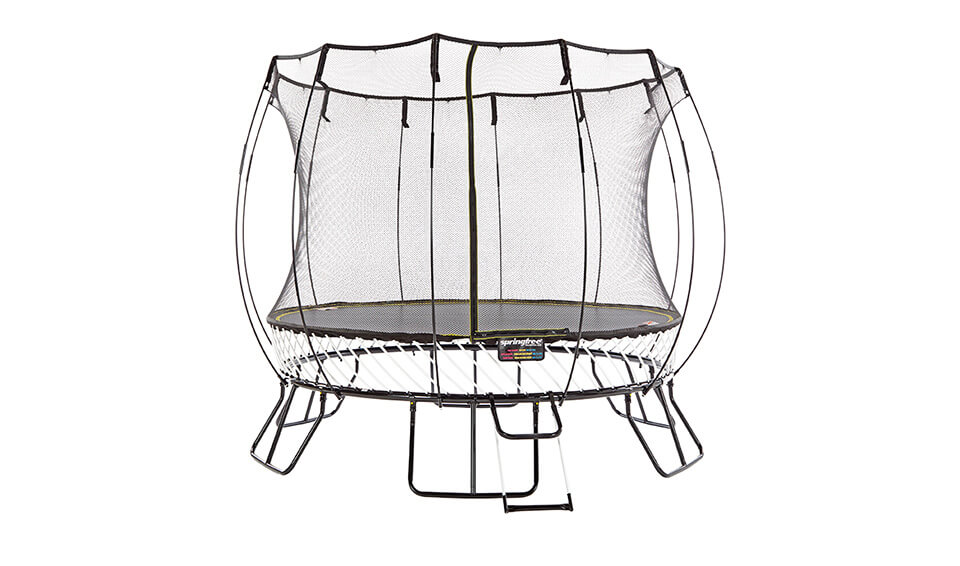 Springfree Medium Round Smart
Somehow Springfree Inc. trampolines always end up at the top of the list, with ratings as high as they can go, not only in terms of safety and specs, but also in design combined with new innovative concepts and technologies. Expensive? Yes. Worth of it? Definitely!
PROS
Excellent build quality
Superb safety
Quality building materials
Intuitive assembly
Sturdy frame
Great bounce
Tgoma gaming system and basketball hoop included in price
CONS
Some features cost extra (tgoma games)
High price
It could use a bit more springs to make it bouncier