Review of SkyWalker 15 x 17 ft Oval Trampoline – One of the biggest trampolines available on the market!
SkyWalker 15 x 17 ft oval trampoline and enclosure combo features a spacious oval-sized bouncing surface making it an ideal trampoline for larger families or for having friends joining a party. If this is not enough, this trampoline comes at a fantastic price and it is one of Amazon's best-selling trampolines of all time. All of this just confirms that Skywalker really nailed it with this fantastic trampoline – sturdy, big & safe! But is it what you really need?
Weight limit: 200 lbs (90 kg)
Recommended for: Children 8+ / Grown-ups under 200 lbs
---

SkyWalker 17ft Oval Trampoline Specifications
Frame
SkyWalker oval trampoline is very sturdy trampoline, thanks to 6W legs and 16-gauge galvanized steel frame, joint together with T-joint stabilizer. Even for such a huge trampoline, 6 legs is enough to keep it in place. Also, within a kit there are wind stakes, don't forget to use them, they are big help during strong wings.
Springs

Skywalker, as neither of their trampolines will actually give you bounce similar to ACON Air Sports 16 or Springfree oval. Then again, price difference is too big to expect it. Springs are galvanized and rust resistant, but we don't encourage you to leave them out during the winter, as for most trampolines we reviewed.
Mat
UV protected PP (PolyPropylene), heavy-duty mat for strength, durability, and worry-free jump with more than 163 square feet of jumping area available, and this is more than we expected, as netting is connected directly to the mat, via V-rings (Skywalker's "Stay Put" patented technology)!
As with all oval trampolines, bounce is center-focused, providing the jumping experience of round trampolines but with a higher and smoother bounce. Unfortunately, bounce on this one is rather sluggish, most likely the number of springs being the reason, as it's rather low for a trampoline this size, but still good enough for first-timers!
Enclosure
SkyWalker's "StayPut" enclosure design uses a button-hole interlocking feature that connects the enclosure net directly to the trampoline mat, over every single spring, creating a gap-free bounce environment.  Have in mind that enclosure can be removed from mat if required. The entrance is equipped with a zipper together with latch clips, for added safety.
Enclosure poles are U-shaped, which really adds to the stability and sturdiness of a safety enclosure. We would just wish that net was reinforced at the top, it would be way sturdier.
Padding
Before, Skywalker offers three different colors (purple, green, and blue) of spring pad. The padding itself consists of foam enclosed with PVC, which is water-resistant. We don't advise leaving it outside during the winter months.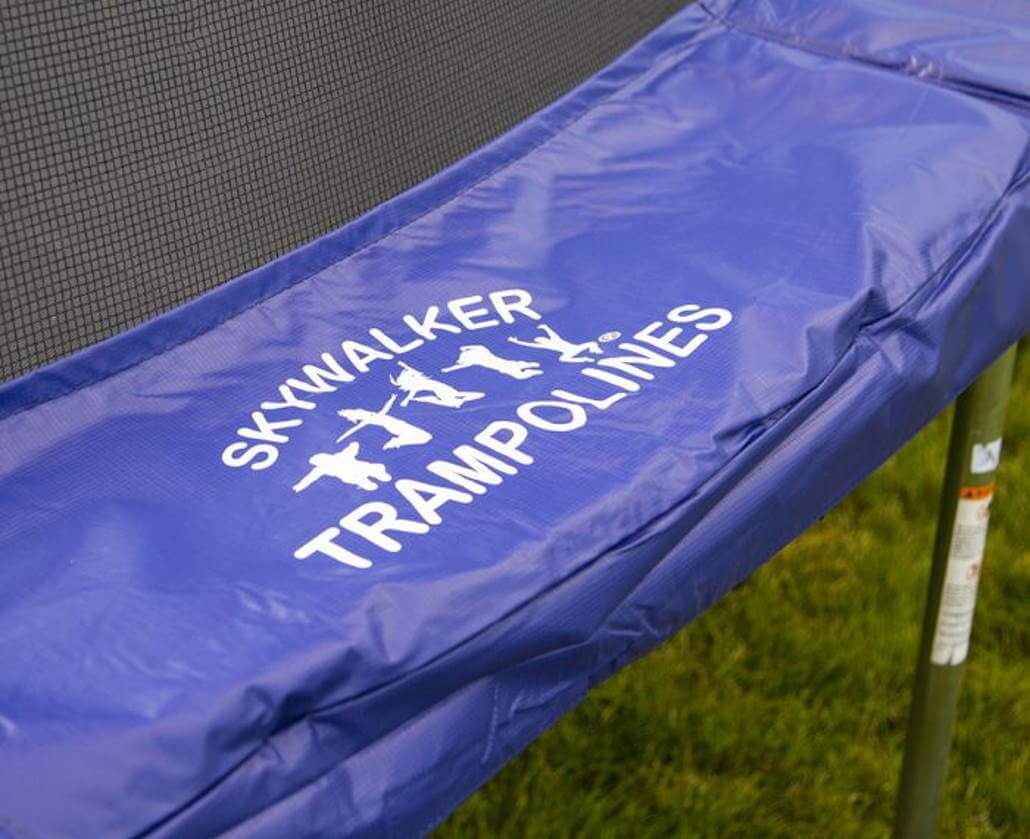 Assembly
Assembly is somewhat complicated and it takes a few hours (3+) for at least two people. It could be installed by one person, but the size of this trampoline would make this very hard, if not impossible. As the assembly is not so straightforward as with other SkyWalker trampolines, we urge you to check the manual before the beginning of the assembly process.
Manual for 17x15ft oval SkyWalker trampoline is available here. While assembling the frame takes some extra time to make sure that the frame was laid out correctly, because if done wrong it will come out as round instead of oval. Also, as there are no markings on the mat you will need to rotate it until the oval mat matches the oval shape. Regarding entrance, put it right over the T bracket without a space that holds a vertical pole, for added stability during entry/exit.
Time lapse video of assembly is available here. Assembled dimension of 17 x 15 foot oval trampoline are 17ft x 15ft x 9.5ft  (204 x 180 x 114 inches)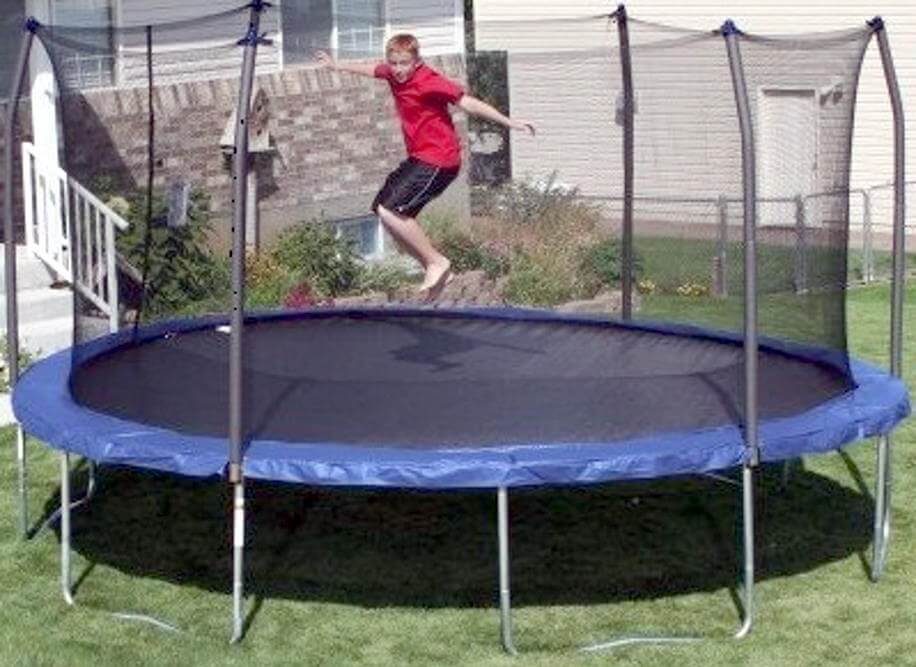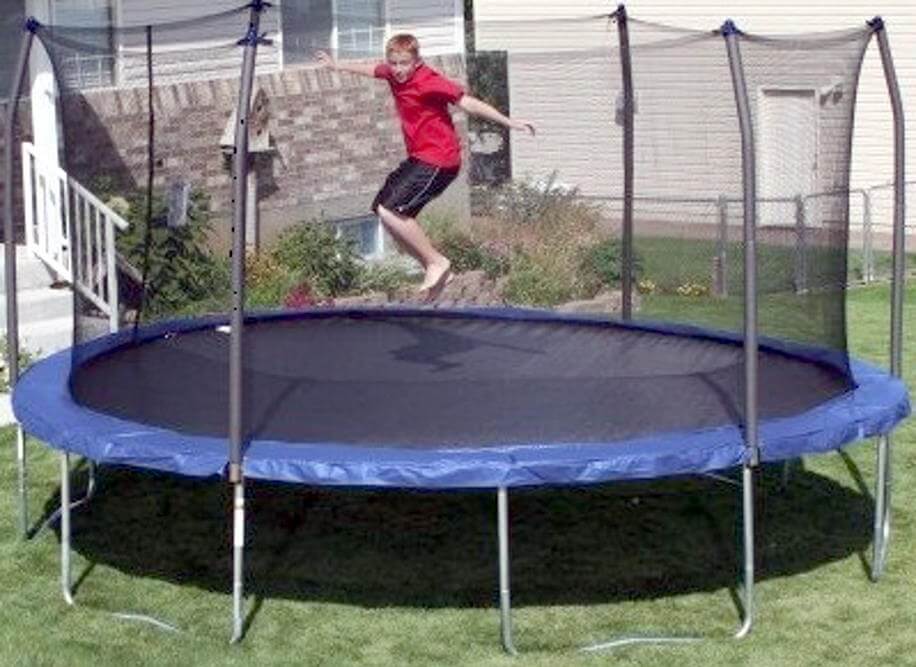 Warranty
As with all Skywalker trampolines, the 17x15ft oval trampoline comes with 3-years limited warranty on frame and a 1-year limited warranty on other parts. The product should be registered directly via Skywalker's website in order to be able to claim a warranty. You can do it here!
Pros
Huge jumping area which can accommodate several children at a time to enjoy some of the fun trampoline games
Very low price (depending on chosen color but does it really matter if pad is purple or green?)
Good materials used, with couple of drawbacks, like quality of mat used on this trampoline…
Cons
Warranty period too short
Complicated assembly
Standard mat quality could be better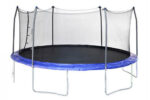 SkyWalker 15×17 ft Oval Trampoline